The "Into the Wild" half day retreats are a sacred opportunity for you to reconnect with your body, your heart and Mama Nature.
During these retreats we embrace the elements and seasons. dance with the elements, mark the seasons, harmonise with the rhythms of the earth.
We unwind our bodies, commune with our souls and rejuvenate our spirit.
We feel. We heal. We listen. And in the silence we hear the whisper of the wind, and the song of our heart.
Now in their fifth year, these popular and potent half-day retreats are an opportunity to relish wonder of being woman through our practice and our innate connection to the natural world at the ever-lush Upper Brookfield Yoga Shala.
Each retreat includes yoga, women's circle, shamanic (earth-based) practices and ritual. . . ways in which women throughout time and place have gathered for healing and empowerment.
There will be time in sacred silence to soak in the lush natural surrounds over a cup of chai, and also the opportunity for meaningful connection.
Our practice on these retreats is always aligned with the seasons and dependent on what Mama Nature is doing on the day and the energy of the group…. They are intuitively led and will invite you to connect with your intuitive nature!
These retreats are suited to women yearning to return to their roots, to take the time to dive deeper into themselves and their connection with Nature. We will have the time to slow down and journey deep within with like-hearted sisters. These retreats are open to 10 participants, creating an intimate and supportive atmosphere within which you can relax and connect.
What to expect during your retreat
An opening circle

An invigorating yoga asana/movement session in open-air shala

Free time spent in silence to just be with a cup of chai and your journal, or to walk barefoot on the grass

A  rejuvenating restorative yoga (by the fire if it is cold!)

Deep relaxation

Sacred ritual

A delicious vegetarian Ayurvedic dinner prepared with love and, when available, homegrown veggies.
The "Into the Wild" retreats take place on Saturday afternoons, finishing with dinner. Each retreat is themed so the schedule will vary slightly – please check the date you are interested in because no two retreats are ever the same!
Your contribution
$111. This includes all your activities,  chai, a sweet treat and dinner.
Note: These retreats are extremely popular and normally book out a few months in advance
Please read my booking terms & conditions before making your purchase.
Upcoming retreats
Book in early as you can as there are only 10 spaces available and these retreats fill quickly.
In November we will be travelling to Nepal for a Yogini Pilgrimage! This event is now full.
I also offered tailored retreats for just you and/or your friends. Be in touch if you would like to dream up your own retreat! ____________________________
What other women have shared about their "Into the Wild" experience
The retreats and yoga offered by Jasmine are unique and are not matched in the same way by anyone else I have experienced in Brisbane. The setting is pure magic, with bubbling brooks, bird song and the trees whistling to keep you grounded, present and fully in your body during your time with Jasmine.
Jasmine has a gift in offering a safe and supportive space during her yoga classes and retreats. You are graciously and lovingly invited into deep presence with yourself and your body. Yoga becomes a deeply healing and relaxing experience.Her yogic knowledge, along with her knowledge in other healing modalities and her energetic and psychic sensitivity, make her a holistic yoga teacher whose teachings cover your mental, emotional and physical body.
Her women's retreats are infused with feminine beauty, grace, awareness and deep compassion.I fully trust Jasmine to lead me into the deeper (and sometimes darker) parts of myself, knowing she will hold me throughout all of it with a deep rooted and unfaltering integrity.  I highly recommend ♡
Sincere thanks for a wonderful retreat yesterday afternoon. I had a truly inspiring time.  I particularly enjoyed the Winter Solstice ritual and I feel lighter, more focused and ready to face the next six months with clear intentions. I could actually feel what I wanted to release moving away from me when we were chanting- Amazing!!  Thank you also for the delicious meal, chai and slice.  I felt very fortunate to be there yesterday, as always you are a true inspiration to me.
Jasmine's heart and soul are at the altar of her retreat. She embodies the practice of yoga and gently echoed this through the thoughtful, purposeful and considered planning and delivery of this retreat. Unafraid to dive within the depths of her own soul and her own practice, she tenderly encouraged the same from her students. The afternoon spent in the lush surroundings of her home, her temple – provided an inspiring backdrop to move through a physical, emotional and soulful practice of yoga whilst serenely accepting a journey of self reflection and surrender as the afternoon unfolded. This retreat provided a beautiful balance of yoga, mindfulness, creativity and sensory awakening as something truly 'divine' opened a space for 10 beautiful women to connect with their intuition, themselves and within the raw beauty of one another. Thank you Jasmine!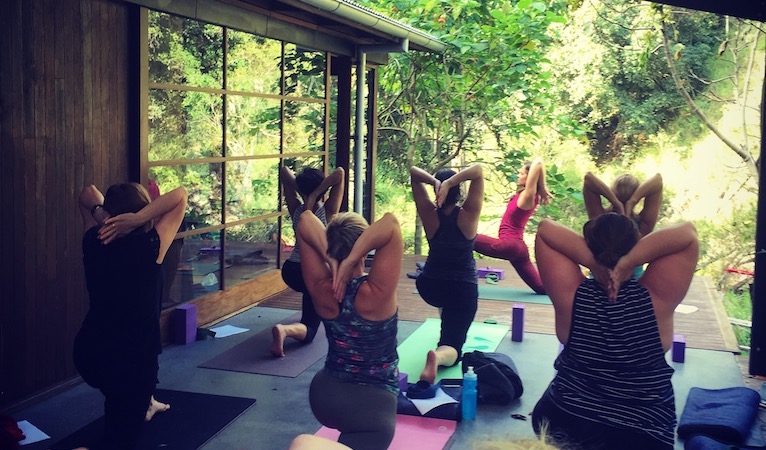 As soon as you step out of your car, you are met with nature in abundance, rustic and earthy surrounds and 5 star trimmings. Jasmine's gorgeous and welcoming presence greets you at the onset and graciously supports you through your experience. The retreat is a perfect way to completely break away from the busyness and stresses of daily life. My experience was one of not only connecting with other beautiful women, but reconnecting with my self, quietening my mind, rejuvenating my body and nourishing my soul. I highly recommend any opportunity you have to work with Jasmine, her passion and knowledge within her art of yoga is exemplary and her quest to share that knowledge with others is a joy to be held. Treat yourself, the rewards will be plenty! 
Whatever you need – Jasmine will show you the way.  Her half-day retreat will cleave open your heart, ignite your passion, stir your soul, feast your senses then nourish you body & mind.  I have often arrived flat, sad or frustrated then floated out energised, joyous and exhilarated.  Thank you Jasmine.