This deep and transformational journey over six months unfolds within a closed circle format where the same women gather each moon cycle over an entire seasonal cycle.  This is for women devoted to the circle and the sisterhood, ready to drink deep from the nectar this kind of commitment offers.
Six months together allows us the opportunity to progressively deepen with each circle, creating a container for transformation and a precious bonding that happens through sharing in this way together regularly.
Meeting monthly, we will commit to showing up authentically and to support and witness
 each others' unfolding. 
The beauty of such a small group of women is the space each of us will have to share our hearts and the intimacy and closeness of the group.   
This will unfold in the Devi Mandir- the Goddess Temple in Upper Brookfield . We are on sacred land here and the temple is embraced by trees – it is truly a sanctuary space deep in the wild, yet only a 10 minute drive from Kenmore &  a 25 minute drive from the city. 
The Shakti Circle is a powerful vortex – once we enter by 
committing
 to our seat in the circle, a special mystery and magic weave its way into your life in all kinds of wondrous ways as the power of our circle ripples into our lives. 
These circles are a sacred space for us to drop in deeply and meet ourselves and each other.  This is a time and space for deep inner listening – to ourselves and each other.  
Full permission is granted to feel, to express, to show up exactly as you are.

Do you feel drawn to this journey and wish to know more?
A new six-month cycle will begin in March at the Autumn Equinox.

Please contact Jasmine to express your interest in joining and to receive all the details.
In the meantime, please come along to an open circle (pre-requisite for joining the six-month circle) 
Below are some testimonials from a few women who participated in the last six-month cycle.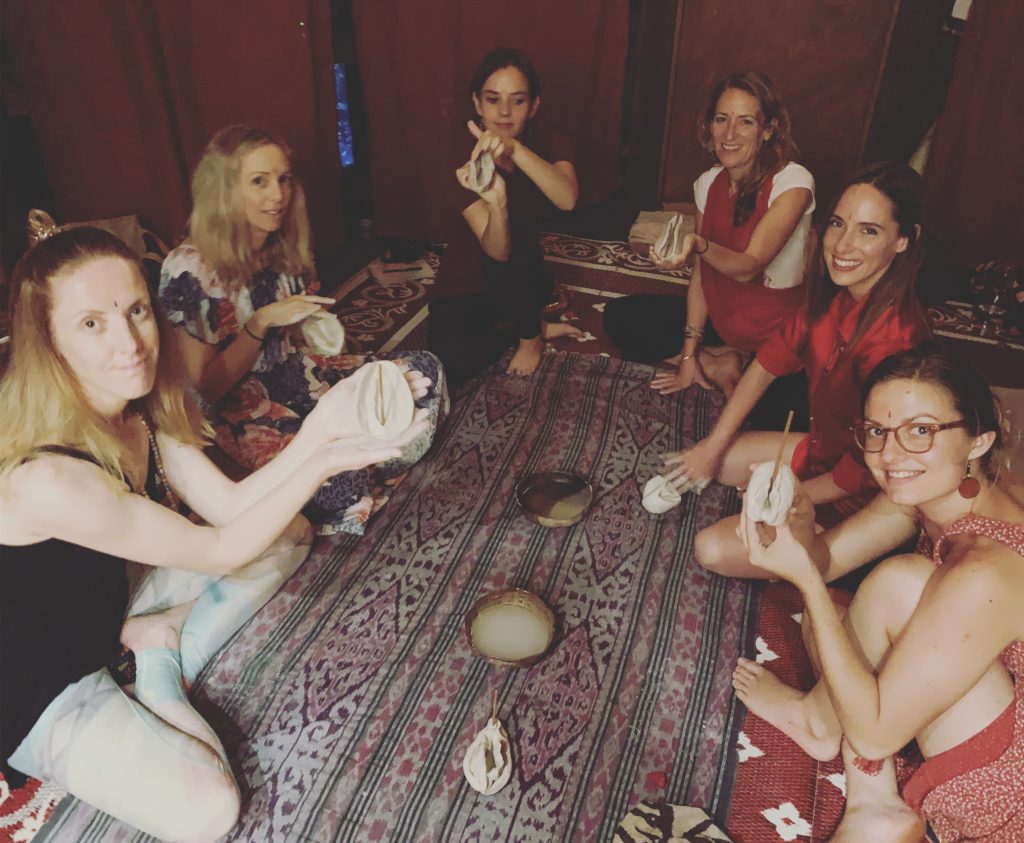 "Jasmine creates and holds space for others on a level that is deeply healing. She allows women to connect to their inner selves and our own unique expression. For me, the practices Jasmine shares are not about becoming an ethereal goddess but staying deeply rooted to the earth and our human-ness, while nurturing our feminine spirit. You will leave shakti circle each time delighted in the fact you experience the gift of being a woman."
Lucy – Creatrix at Wild Soul Food
"Jasmine's monthly Shakti circles have been delightful and nourishing. Sharing time, sharing space, sharing touch and support with other women is so healing. These regular sessions with a closed group of women really taught me the value and accessibility of Sisterhood. There are very few places in the common world where we can sit and celebrate being women, and grieve with and for women, and dance and play together as women.  The gentle opening to depth and intimacy with my relationship to my own womanhood, and how I relate to other women, has really supported my growth and understanding of the world. Jasmine always goes the extra mile to provide a special, sacred sanctuary to fully arrive into and receive the wisdom of the divine feminine. We laugh, we cry, we share and remember. It is a gift to give yourself to join a group such as this!"
Georgia – Musician and movement facilitator – Moving Connections
What an offering you gift to your sisterhood sweet Jasmine Rose…the time and space to love… to be loved..to feel our whole selves so deeply and to hear each other's hearts. 
Thank you for the journey…there have been many times in recent years where I've wondered if sisterhood is an illusion…where could you find a truthful representation of women sharing time that was free of judgement, competition, self doubt, and staying small? I have marvelled at how our circle has celebrated the opposite of all this. ..Sisterhood is not an illusion!
And I have also loved watching you live your truth and your calling by sharing this work! You are a true shakti goddess!
"
Six moon cycles diving deep into the sisterhood has been a most exquisite unfolding… a laying down of old stories, past experiences and doubts This has been a space for me to acknowledge and my deep desire to experience relating to women without competition and judgments. Embracing one another.
These women have reflected back to me all the parts within myself, that I had forgotten or had never fully acknowledged: Resilience, Softness, Vulnerability, Strength, Sensuality, Creativity, Wisdom, Grace, Playfulness, Wildness, Deep Trust and Unapologetic Truth.
When women come together and support each other – SEE, HEAR and HOLD each other – they reclaim their power, begin to heal eons of ancestral pain and let the barriers dismantle and dissolve to allow authentic unconditional loving-kindness to radiate.
My heart is overflowing with gratitude and appreciation for the opportunity to connect in a way that has totally shifted the way I relate to myself and all other humans (women and men)."
Katie