Mary Magdalene Feast day – temple night 22nd July : Brisbane
$69.00
This is an evening of celebration, ceremony and ecstatic devotion in honour of the incredible woman, Mary Magdalene – whose legacy is illuminating a path of love which you and I have been called to walk. All of the women who will attend this sacred night of ceremony have heard this call.

Mary Magdalene is alive in the hearts and wombs of so many women on earth at this time for a very good reason. Her bold, unashamed passion combined with her pure heart is very much the medicine the world needs right now.
Her essence is coming alive in so many women, expressing in unique ways, to usher in the golden age and bring heaven to earth – an earth where the feminine is revered and flourishing; and sacred union is known within and without.
She blesses us with immense love, incredible courage, reminds us how to be rooted here on earth and in our sacred body temples, bringing heaven to earth, embodying love that is empowered by eros.
She is a LOVER in every sense of the world. Her feminine power is fully activated, and activates that very power within us.
There is so much the scriptures did not tell us about Magdalene, and yet she is revealing herself in our hearts and wombs in very real ways – reminding us of the feminine path of gnosis – direct knowing.
This evening will be a dedicated space to open to her wisdom, love, beauty and grace, and to express and share that with like-hearted sisters; awakening and activating each other.  Through the chalice of our bodies, to open to the sweet in-pouring of her essence, that is a healing balm; a sweet nectar – honey for our hearts. The essence of Magdalen.
"This dynamic, Wild Feminine is not limited to the story of one person or priestess – it is a living, vibrant frequency within everyone, calling to be remembered and embodied. It is the Holy Spirit. The Spirit of the Holy Whore of Wisdom." From "Magdalene mysteries: The left hand path of the Feminine Christ" by Seren & Azra Bertrand .
It wouldn't be a feast day without a FEAST! SO this event will be catered – we will share a delicious nourishing meal at the close of our temple ritual.
🌹
This will be a sumptuous temple night of ritual, suffused with delicious sensory delights – think roses, candlelight, soul ravishment and deep feminine connection.
This will be an intimate group of women – SIXTEEN PLACES ONLY – so if it's a YES, jump right on in (there is a lot of interest!).
WHEN
Thursday 22nd July 6.00pm – 9:30pm (Arrive between 6pm & 6.15pm as our temple ritual will begin right on 6.30pm).
The 15 minute arrival window is essential so that you can all receive a welcome blessing, settle into the space silently. Herbal tea will be available during this time and you can make any offerings at the altar.

VENUE:
The Aslan Centre is at 28 Latrobe Terrace Paddington.
Our venue is in the heart of Paddington on Latrobe Terrace – a cosy, luscious and private space that will be transformed into a lavish temple for our gathering. This space has been fully charged up with the Temple of the SacRED ROSE journey  – which will close a week before this event.  The presence of the rose will be very strong !!!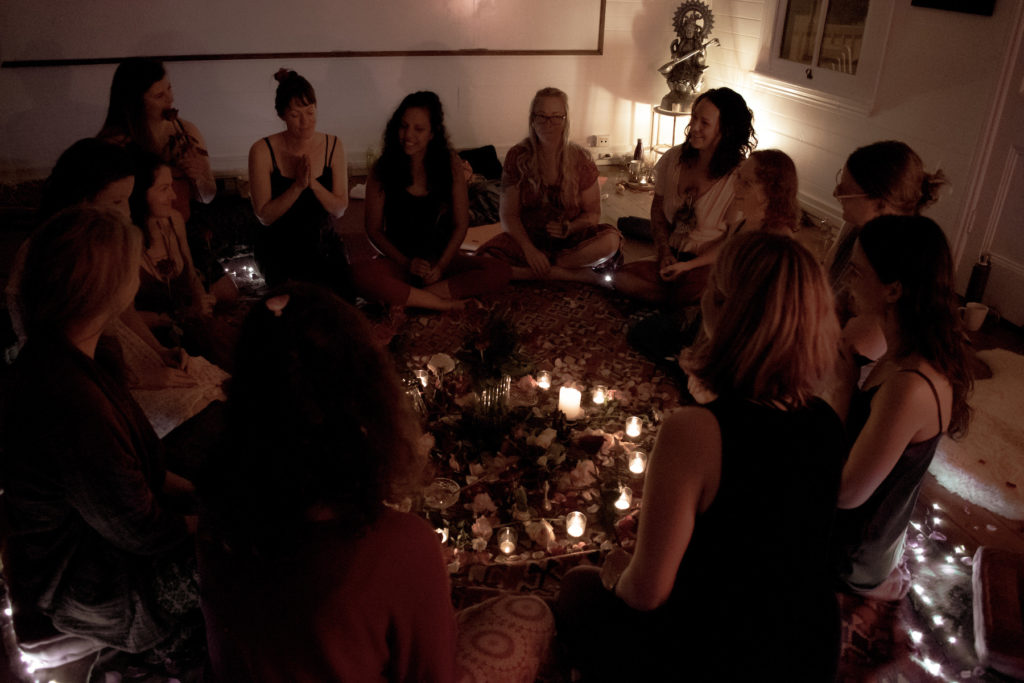 This evening will include:

☥Welcome blessing by Jasmine or one of her temple assistants
☥Centering, ritual + prayer
☥Devotional songs of invocation
☥Ritual of anointing
☥Sacraments of sensuality
☥Guided journeys to meet with Mary Magdalene
☥Deep, soulful sharing
☥ Giving and receiving devotional touch
☥ Embodiment and dance
☥ Dinner and time to connect after our ritual closes
BOOKING TERMS: Bookings are final, meaning refunds or exchanges are not normally offered. If for any reason the event is cancelled, you will be offered a full refund.
Out of stock