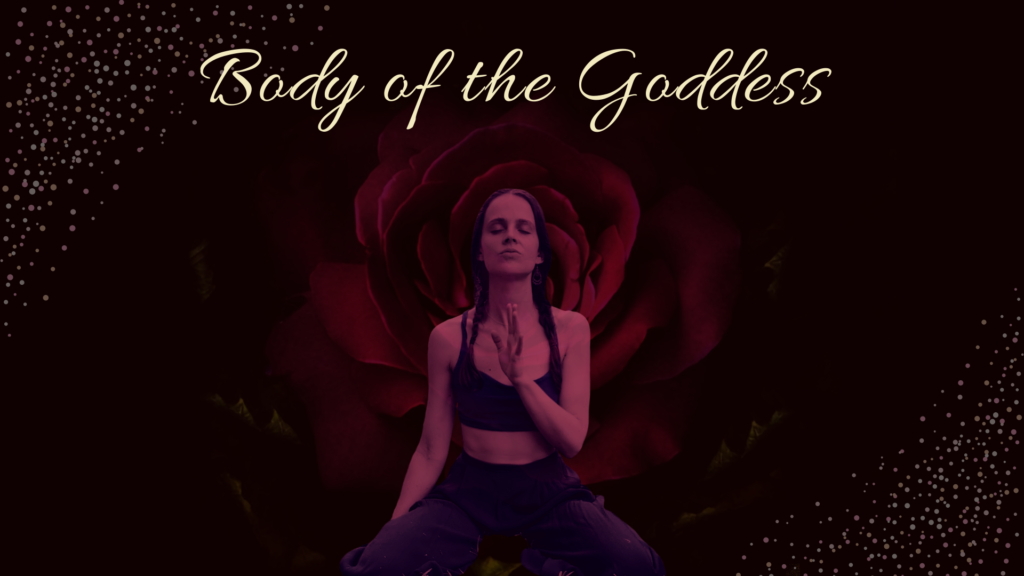 Online temple group starting 13th January 2021

---
Adorable Goddess,
These practices are a nectar I share with you.
Drink from this cup whenever you are thirsty
Or crave to be refreshed in the essence of life.
Know that this ambrosia is available to you
Everywhere, for the universe is made out of it.
Simply go to the intersection of flesh and spirit,
Breathe the tiny sparks that fly.
Within this very body
Are many gateways to the infinite
Where incarnation and immortaily
Consummate their passion for each other
– The Radiance Sutras

---
During this 5-week journey we will explore soulful somatic practices specific for woman to melt into the Mystery, remembering and awakening the Goddess codes that exist deep in our bodies.
Beginning on the first new moon of 2021, we will gather weekly in a ritual space where the divine feminine force we embody as women is revered.
Through the portal of the body we will open to the mysteries of creation.
This will be a deep sharing of sacred feminine wisdom in the spirit of sisterhood that weaves in:
♥ Sacred sensuality ♥ Womb wisdom ♥ Ritual ♥ Devotion
This is a time on earth where the feminine is birthing a new earth. We need to be deeply in touch with our embodied feminine wisdom, and with other women, now more than ever!
Weekly temple rituals (via Zoom) on Wednesday nights 7pm – 9.30pm AEST (Brisbane time) – beginning on the New Moon 13th January

* Check your timezone as this is a circle – not an online course – your presence in real time is essential (for at least 4 of the 5 gatherings).
THIS IS FOR YOU IF:
The way you've been meditating/moving your body feels dry & mechanical with lacklustre results
.
You are drawn to the Goddess/Sacred Feminine/Divine Mother presence in any form
.
You yearn to relinquish control, soften your edges & surrender – as an embodied experience, not a concept
.
You've been wondering what wisdom is awaiting you within your womb (or womb space)
.
You desire to embrace your sensuality as sacred & receive more nourishment through being in your body
.
You want to remember & recognise your body's beauty + wonder
.
You sense a stirring – however subtle or strong – within your belly, womb & s3x – and want to learn how to consecrate & harvest this energy. Or perhaps you'd like to awaken this connection.
.
You long to connect more meaningfully & authentically with other women
.
.
You receive: 


♀ 5 x 2.5 hour temple nights from the comfort of your own home – and instructions on how to prepare your sacred space for each evening we gather

♀ Playlists for your home practice

♀ Several guided practice audios/videos including womb clearing meditation
♀ BONUS 20 minute 1:1 check-in with me during the course of the journey.
♀ A private online space to connect and share between circles
$333 upfront or 3 x fortnightly payments of $119 (prices in AUD)
Or set up your payment plan here
Limited spaces – an intimate circle of 13 women.
This is an interactive circle and you will receive personalised support from Jasmine.
The women's temple is a powerful vortex – once we claim our seat in the circle, a special mystery and magic weaves its way into our lives in all kinds of wondrous ways. The power of the circle ripples into our lives.
Testimonials from previous online temple sisters: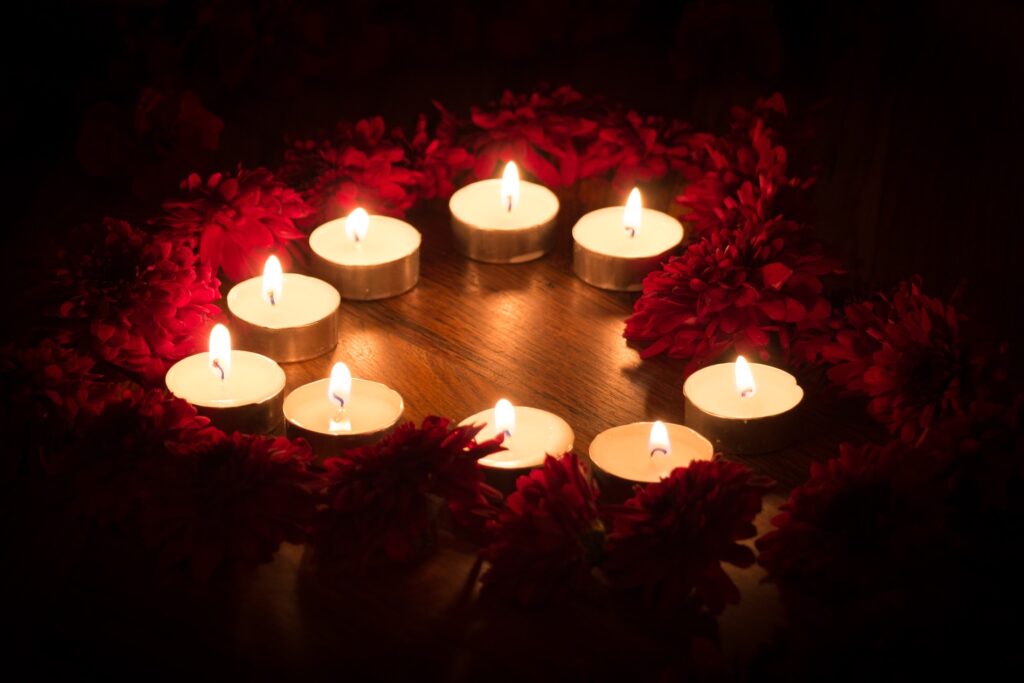 Signing up for Jasmine's online temple group was one of the most integral thing I did for myself in terms of healing my feminine energy. I had subjected myself to toxic masculinity and had no clue how to connect to my feminine side, let alone heal her. I am so grateful to all the practices and words of wisdom imparted by Jasmine during the seven weeks. This journey was so instrumental in helping me connect with, embrace and heal my feminine energy. All of the embodiment practices were very simple yet extremely powerful. Now I cannot imagine my life without them! Jasmine created the safest spaces for us with such compassion and unconditional love with utmost grace and empathy. I highly recommend all women to sign up for any of Jasmine's temple offerings because this will help you connect to the Divine Goddess you already are. This circle would be an amazing beginning to loving and treating yourself with unconditional self love. – Meghna

✧
I felt a strong calling to join Jasmine's online temple group. Having attended a number of her in-person circles, I knew how healing they could be, and fervently hoped that the online version would give me the same balm for my soul, the same feeling of being held and holding space for other women. From the first evening, I was absolutely enchanted by the connection that I felt to all of the women in the circle. Jasmine's facilitation forged strong soul and heart-connections between us all – across countries, continents and hemispheres. One of the most valuable parts of the experience was truly seeing other women, being seen by others and ultimately seeing myself. Through Jasmine's guidance, and covering a new topic each week, I questioned everything I had previously been taught about womanhood and the feminine body, about sexuality and pleasure. I learnt to begin to trust and find solace in my innate inner-wisdom. A whole new world of experiences and opportunities is opening up before me. I reflect on this experience daily, reminding myself of the importance to slow down and touch in with myself, seeking the feminine Shakti energy that is such a sacred and powerful force within us all. Louise M
✧
I had the pleasure (and blessing) of being part of Jasmine's Temple Group… but words cannot properly describe the depth of feeling such an experience brings from deep within oneself. Surrounded virtually (and energetically) by beautiful women, inside and out, I was called to awaken the divine feminine within, in a way, never before to taught to me. All I have is gratitude for you Jasmine, as our guide. Warm blessings to you and to anyone who ventures this journey with Jasmine and your tribe of temple sisters. Highly recommended.
– Farah, London
✧
Jasmine's online temple journey was all that I wanted it to be plus sooooo much more. Being a Shamanic Practitioner myself I chose to enter this journey to deepen my own connections with my femininity and womb, and to cultivate the sacred shakti connection. Jasmine has a refreshing earthy presence, her knowledge and teachings offered in the course are vast.The weekly topics and group work is delightfully varied, interesting and engaging and building week by week. It is very obviously the culmination of years she has spent refining her unique approach to cultivate a real embodied connection with our wombs, blood rites, menstruation, femininity and sacred shakti.You can go as deeply or lightly with the work as you like – the energy and medicine is held by Jasmine for you to do so!I personally had a lot of deep energy clearing some weeks and found that I was able to really deepen the womb/body/earth connections that I was seeking. I felt very comfortable and held in her circle space. I enjoyed sharing the journey with other women each week online and witnessing their many aha moments and personal growth. Don't hesitate to join this immersion, it is the best money you'll spend!!
Eloys – Byron Bay
---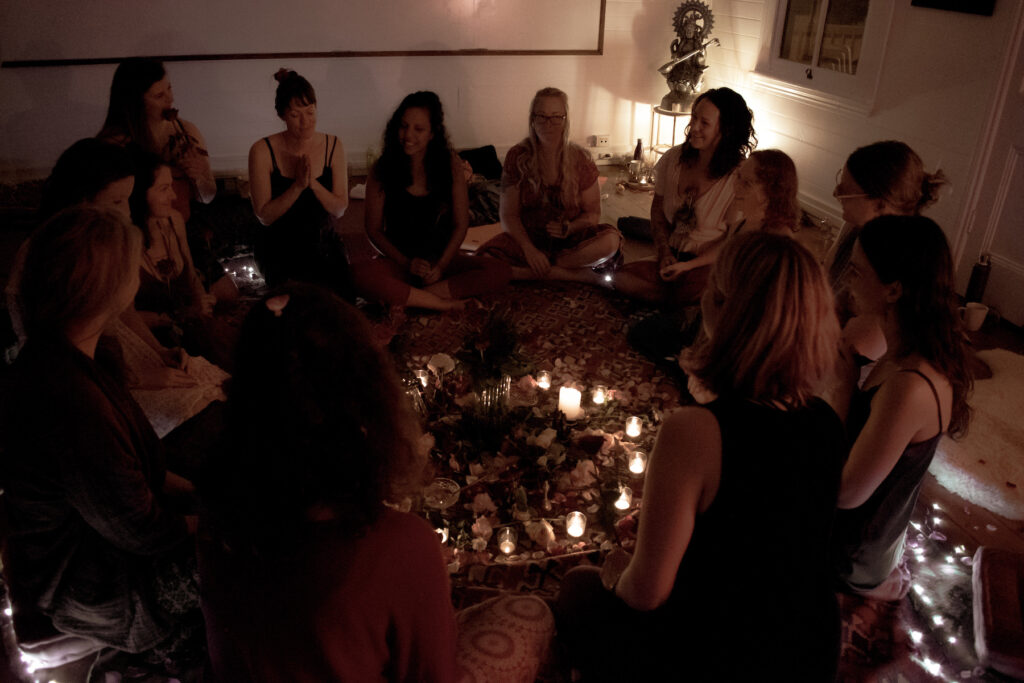 A sacred circle of women is an immense source of strength as well as a place of sanctuary where we can come as we are, share deeply and land in our bodies, tending to whatever is calling for our loving presence in a space of deep listening. It is medicine not only for the women present, but for planet earth and the return of the Feminine.