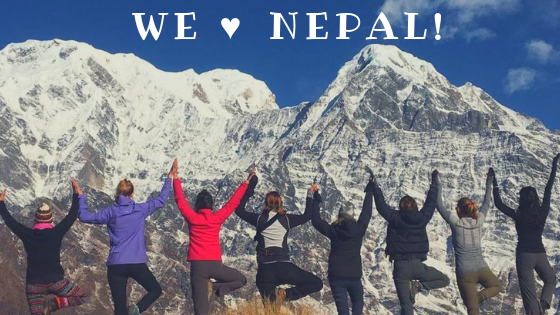 November 5th- 22nd 2019

ARE THE HIMALAYAS CALLING YOU?
This 18-day pilgrimage to the sacred Himalayas - the original Motherland of Yoga -  is for the wild-hearted Yoginis with a sense of adventure and a desire to immerse deeper into the heart of yoga.
This trip is an opportunity to break out of routine, renew your spirit, deepen your connection with nature, challenge you physically, and to experience the bonding and support of the sisterhood as we journey together.
On this journey we will enjoy:
* Yoga  * Meditation * Nature connection * Sharing circles * Trekking * Sightseeing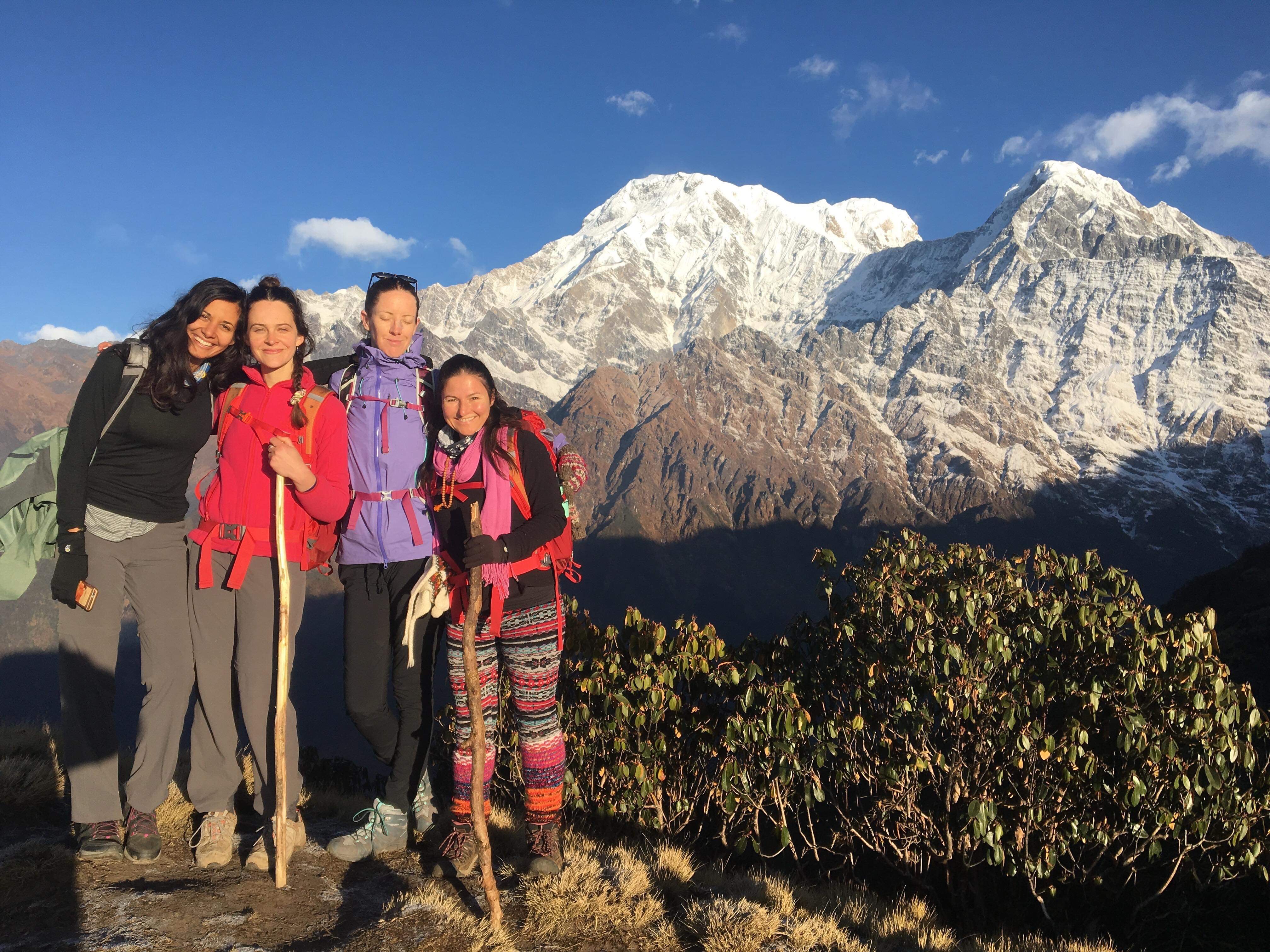 ---
"I LOVED my time in Nepal with Jasmine and would highly recommend the journey to anyone who is seeking to go deeper within themselves, connect with nature, challenge themselves physically and connect with like minded women.
I feel like I shed layers of myself as I climbed the Himalayas, resurfacingfeeling more 'me' than I'd felt in a very long time. This trip is more than just a hike -it's a journey for the soul and the heart. Plus, Nepal is an incredible country. The culture, food and hospitality ignited a deep well of gratitude and reverence within me. If any part of your heart feels compelled to take this journey then I urge you to respect it and listen." Che Johnson -copywriter and business coach -www.chejohnson.com.au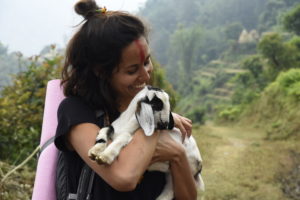 ---
Although our time in the mountains will be a definite highlight of your journey, you will also have the opportunity to experience the magic of Kathmandu and Pokhara.
Our trip will begin with two nights in Kathmandu - an enchanting and bustling city, steeped in history and culture. During this time we will explore, rest, shop (there's beautiful and affordable jewellery, gems, prayer bowls and bells, wool, shawls, pashminas and statues to be found!) and visit temples and sacred sites.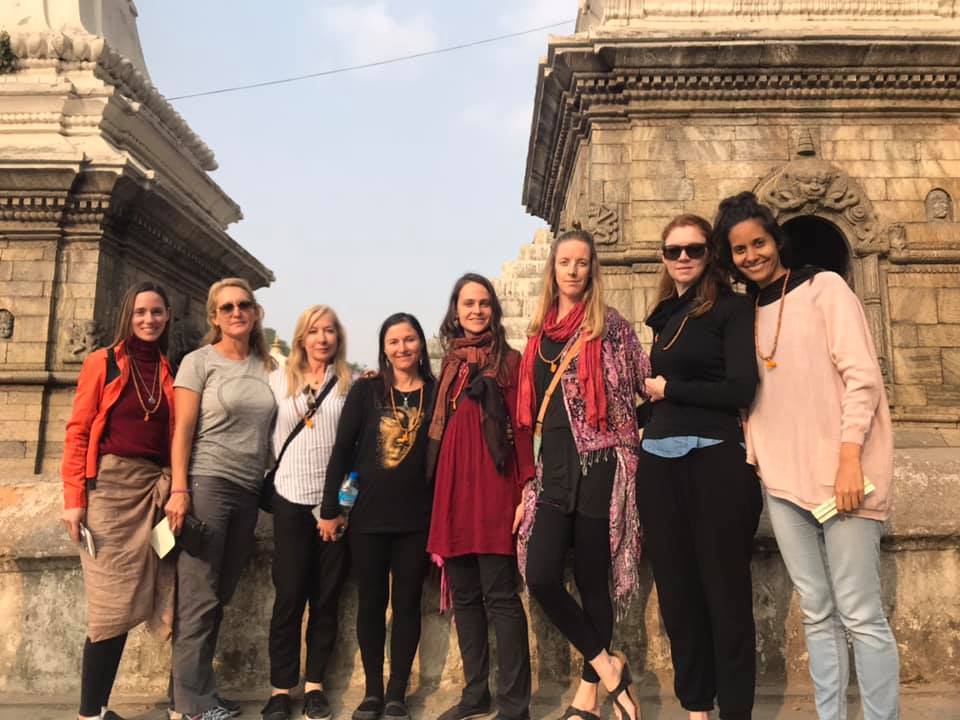 Our yoga and meditation practice will also begin here as we use our hotel's rooftop as our yoga shala.
Pokhara is where we will start and finish our trek. It will gift us plenty of delicious food options, shopping opportunities, lots of culture and a bit of luxurious indulgence (it's here that we'll be enjoying a well deserved half day pampering session after our trek!)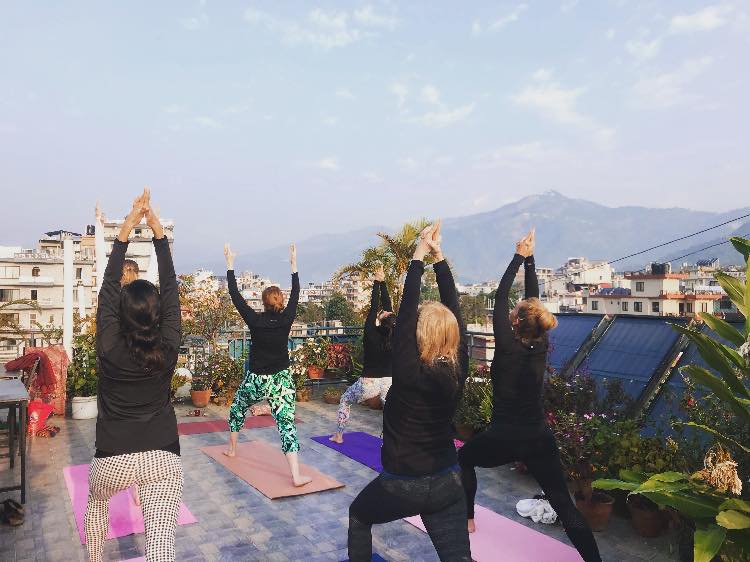 About the trek
Our trek in the Annapurna region of Nepal will include the Khopra Ridge and the sacred Khayar Lake. This is a less touristy route than many of Nepal's popular treks meaning that we will have the luxury of having more space and quiet to enjoy our surrounds and the teahouses we stop at along the way.
On this trek we will be graced by the presence of the Annapurna Mountain ranges. Annapurna is also the name of the Hindu Goddess of nourishment and abundance. Part of the intention for this is a trip that will remind us of the bounty with and around, the beauty that pervades all things.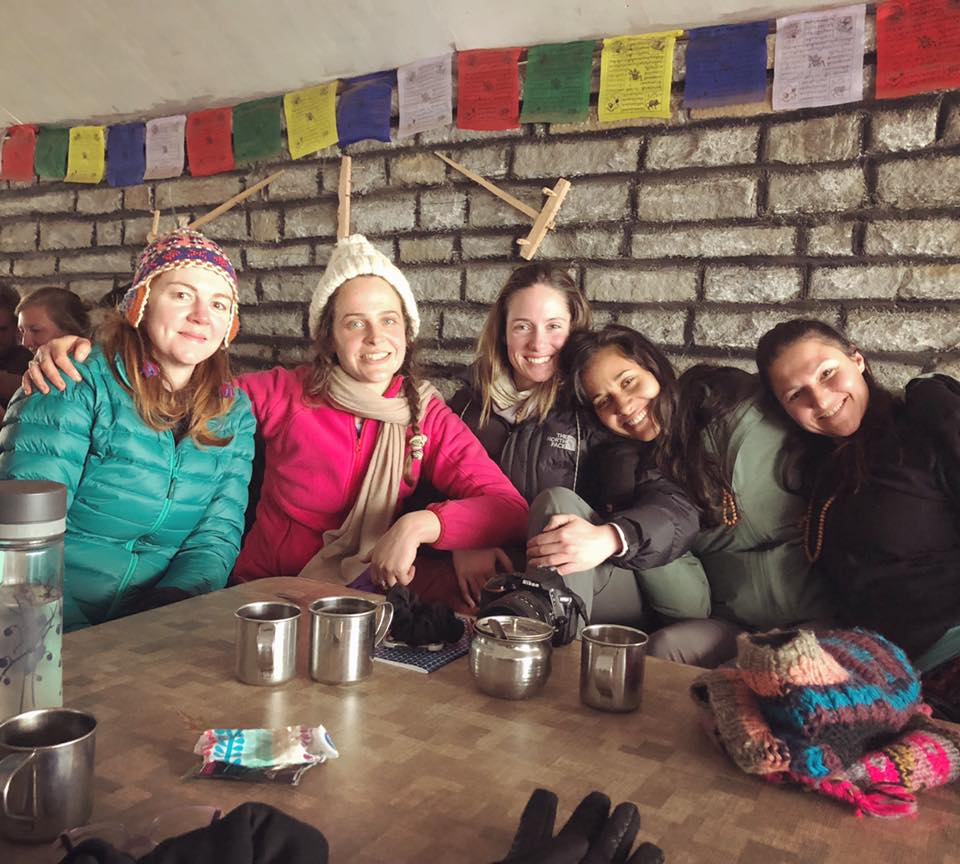 The accommodation is in tea houses. It is basic yet comfortable and often gifts breathtaking views!  The food at the tea houses is delicious, nourishing and mostly vegetarian. We will be drinking a lot of chai!
The maximum altitude we will reach on this trek is 4830 metres. We will be trekking between 3 to 6 hours per day at a steady pace.
Envision green pastures, flowing streams, enchanted forests, captivating sunrises, the presence of the world's highest mountains, weathered yet colourful prayer flags strewn through the trees, eagles soaring overhead, traditional local villages, local dancing, natural hot springs (yes, we will be soaking in them!) pristine lakes … and so much more!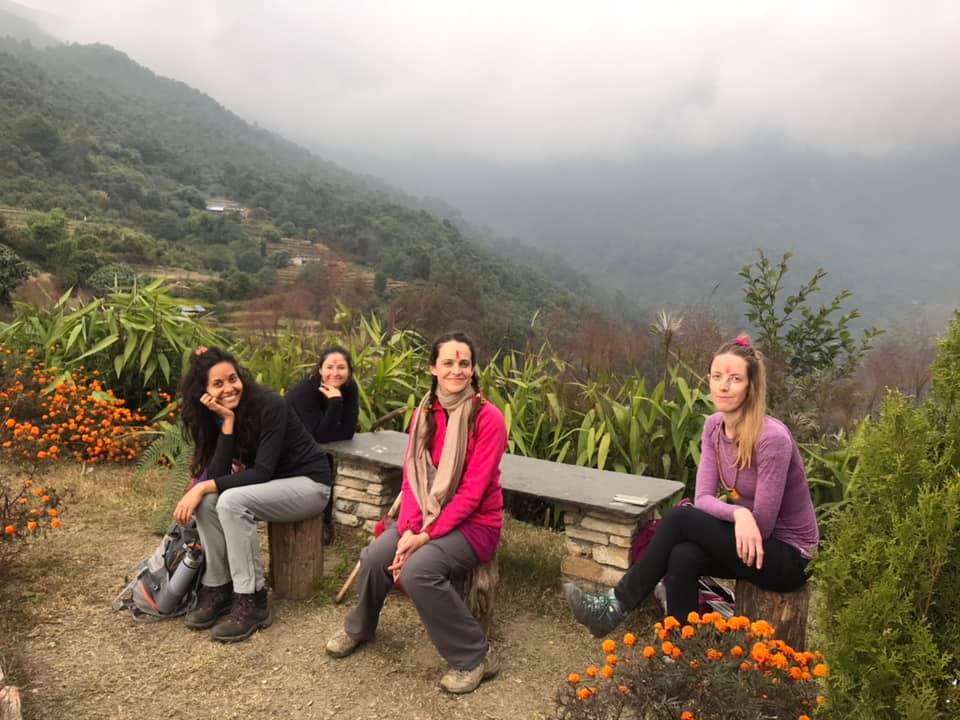 As we ascend, we will find ourselves literally on top of the world, surrounded by snow-capped mountains, yet deeply rooting in our connection with earth. Breathing in the pristine mountain air, we will feel worlds away from the buzz of Kathmandu.
---
Thank you Jasmine for bringing us together for an unforgettable journey to experience the majesty of the Himalaya with such caring and spiritual women.  I shall never forget the feelings of doing yoga with the warmth of the morning sun on a ridge top surrounded by the beauty and presence of the mountains with eagle soaring over head.    What a once in a lifetime experience. - Jacqui
---
Every day will be different and our program will be flexible. Our itinerary will have the space to adjust according to the needs of the group and weather conditions but will usually include daily offerings of yoga (although less at the higher altitudes!), meditation, mantra, pranayama, and of course – plenty of walking!
There will be times when we practice silence to dive deeper, and times where you will be asked to unplug from technology to really reap the fruits of this experience. Our prayers and intentions reverberate far and wide here, and opportunity will be given to consider and share your intentions and to truly plant seeds that will ripple into your life upon returning from this epic adventure.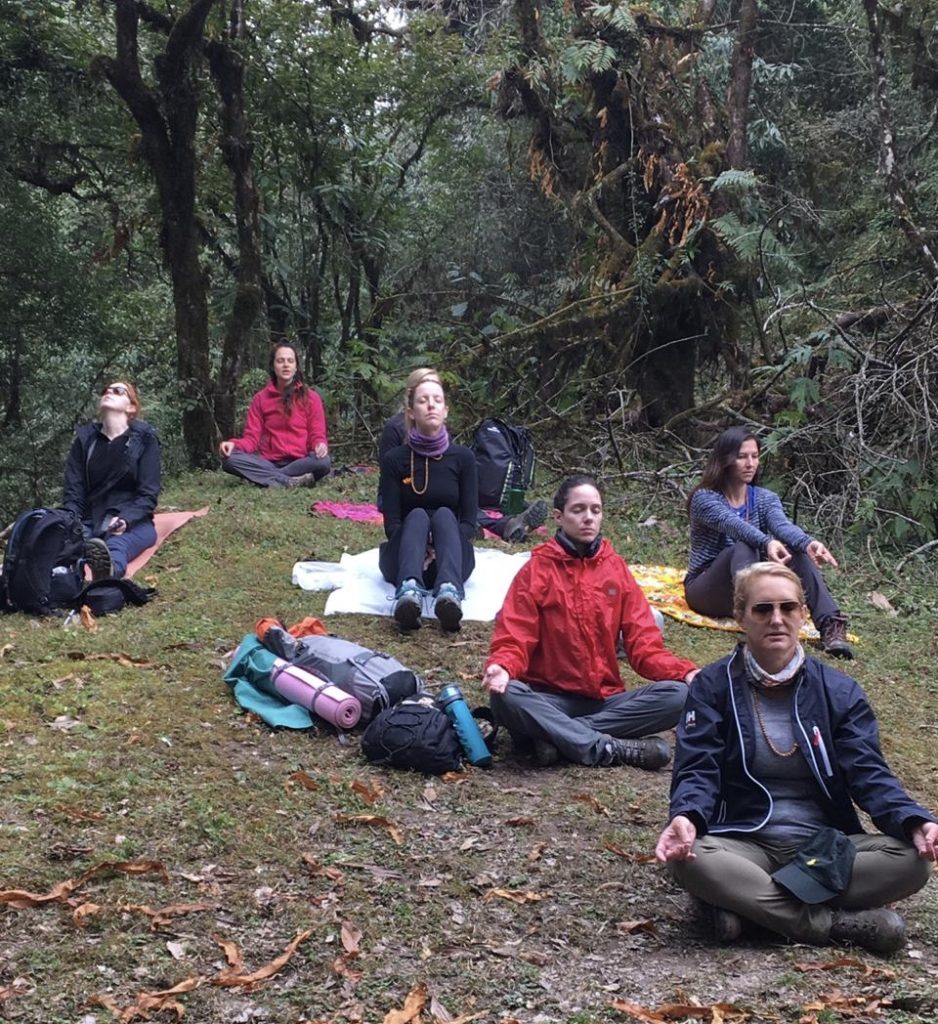 You will also have free time to rest, read, journal, and put your feet up by the fire!  We will nourish each other with foot shoulder rubs in the cosy teahouses in the evenings as we gather at the end of each day's walking.
Our trek will be totally unplugged from technology, allowing us to retreat and truly immerse in the experience without distraction. This space will allow us to decompress, appreciate the beautiful surrounds more fully, go deeper in our practice and get still enough to hear the quiet whispers of our hearts.
The power and majesty of the mighty Himalaya mountain range will inspire and shift your perspective and, opening your hearts and minds. This ancient land is rich in culture and drenched in sacred vibrations.  The pristine frequency of this land is power place is palpable, and bound to transform and awaken you. During our pilgrimage we will be working with yogic and shamanic practices that will attune us to this frequency and wisdom both within and around us.
The scenery is utterly breathtaking, bound to captivate your heart and awaken awe and wonder. This in itself is a big part of the medicine of this pilgrimage, expanding beyond the limited "self" from which we habitually identify, and opening to the vast expanse of Spirit.
This sacred land will speak to us – and we will practice a deep listening, opening to the wisdom and guidance within as it is reflected in our surrounds and our connection with each other.
READ THE DETAILED ITINERARY HERE
A note from Jasmine Rose– your pilgrimage leader

Nepal is very dear to my heart - it is a homeland of sorts, a place that awakens my innate joy, resonates with my soul and opens my heart. Even the thought of the Himalaya evokes an ancient remembrance, a deeper knowing of myself and my essence, and a resonance in all of my cells. It plugs me in to the origins of yoga – the trust and ancient. I love being on top of the world, where the Dakinis dance and the sky makes love with the mountains.
It is my complete delight and honour to be guiding a group of Yoginis on this sacred pilgrimage again - a vision that came through when I spent three months in Nepal in 2012.  Last year's inaugural pilgrimage was unforgettable and there was no question that we would return in 2019.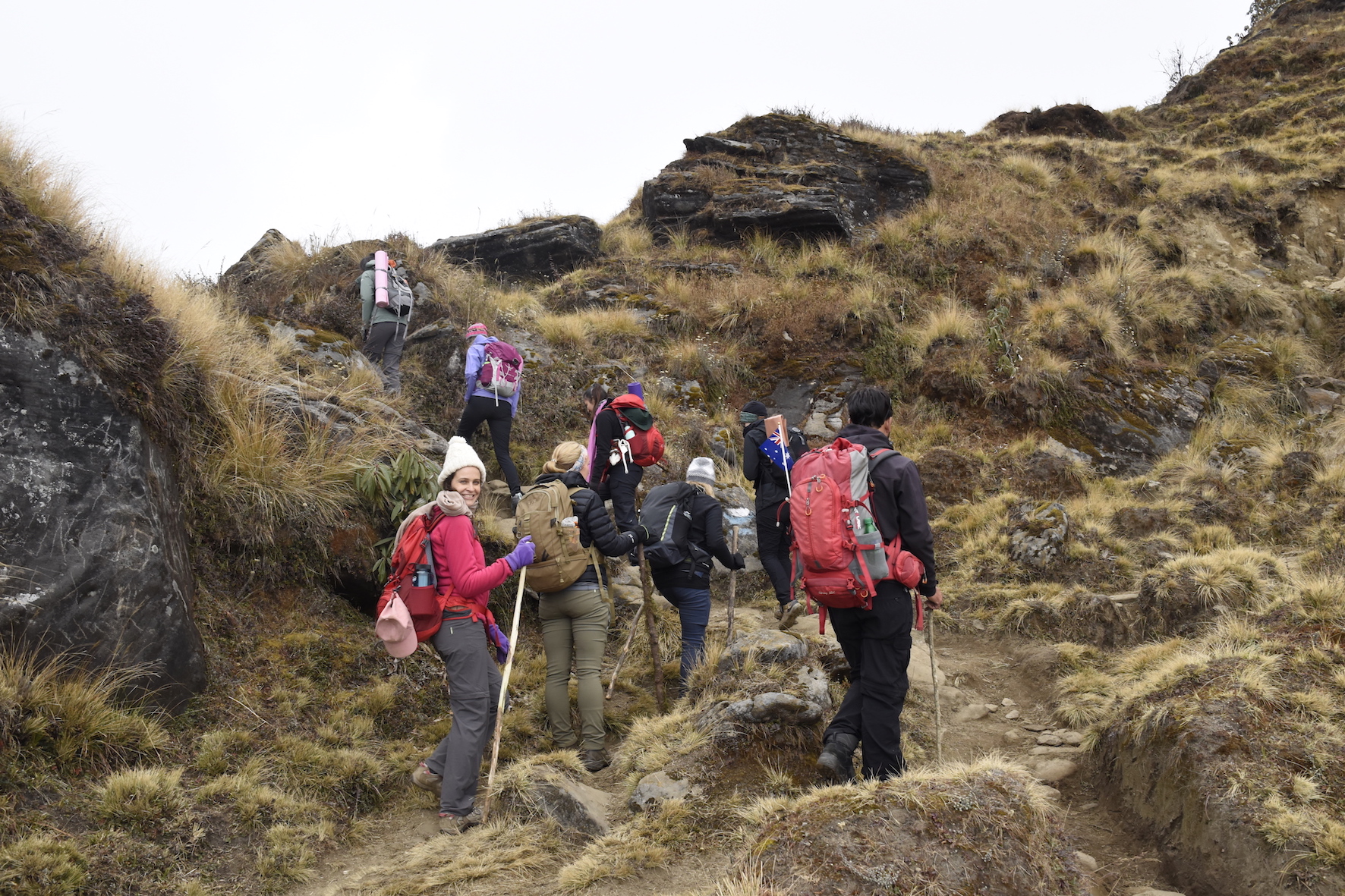 I will be teaming up with a local guide and good friend, Laxman, who I met on my first visit to Nepal in 2012. He will take care of the logistical, practical and cultural side of things, and I will be creating a container that we can all lean into as I guide us through the yoga practices - the beauty of this pilgrimage is that we will have the opportunity to deepen beyond the asanas (yoga poses), and our extended time together in group means we can truly immerse in ways we cannot in our ordinary life.
With all this taken care of, you will truly be able to relax and receive, enjoying the journey knowing you are being well looked after and travelling alongside like-hearted Yoginis!
Our support team
Our warm-hearted guide Laxman Karki is a Nepali native from the Everest region and has over 15 years experience as a trekking guide. He has guided me on 4 treks during the last 7 years, including our inaugural Himayalan Yogini Pilgrimage in 2018, and I have complete trust in his skills and expertise as a trekking guide.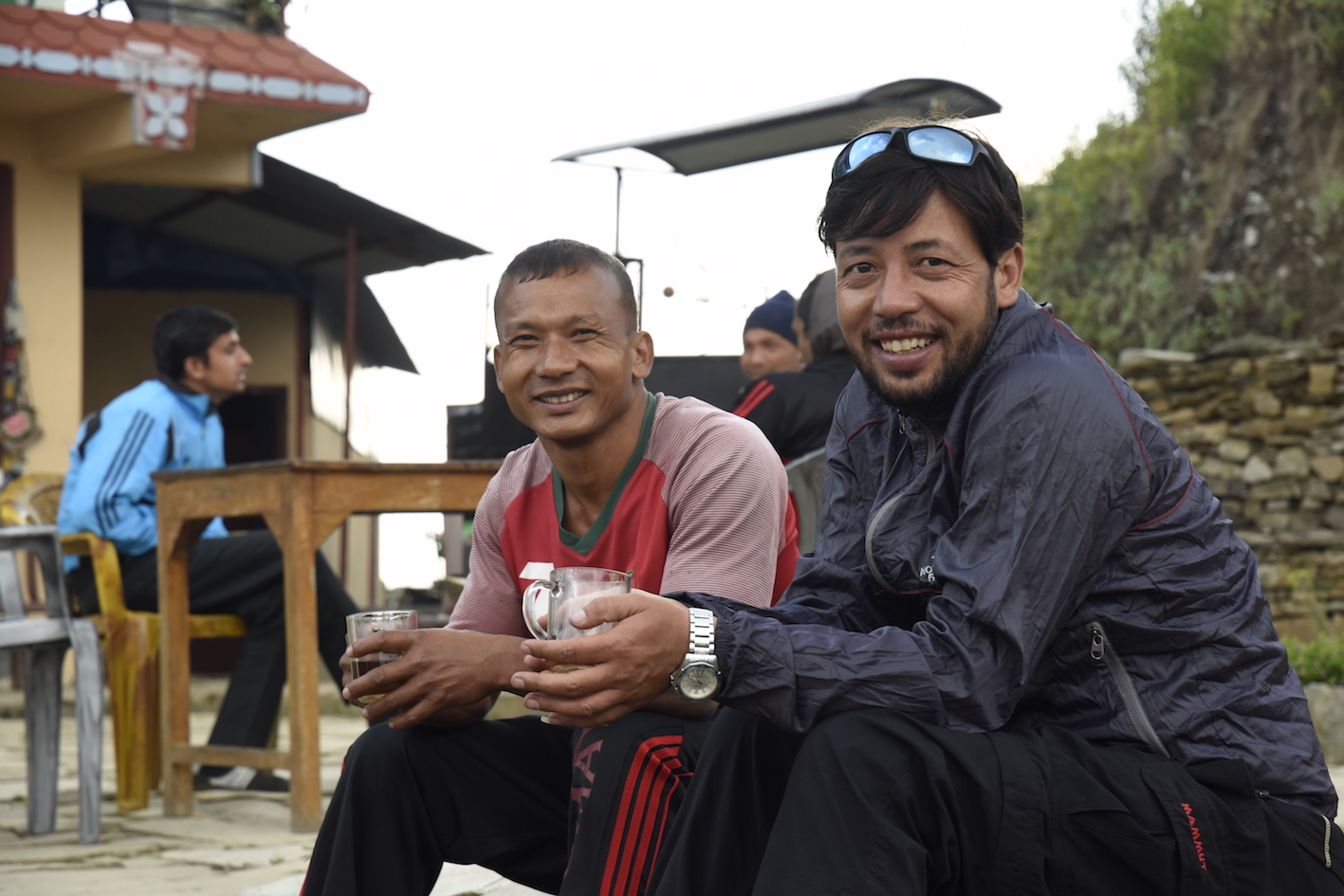 His spoken English is excellent and his clear communication paired with a cheeky sense of humour means that even the challenges are navigated with ease and grace.  He will be supported by porters who will help to carry our luggage, lightening our load so we can be free to enjoy without aching shoulders! Not only that, but they will charm us with their smiles and have us swooning with their generosity, kindness, and not to mention their dance moves!
You can read more testimonials from the adventuresses who joined our 2018 pilgrimage here.
Also, check out my blog post about the women's temple we created along the journey.
See the full photo album from our 2018 adventure here on my Facebook page.