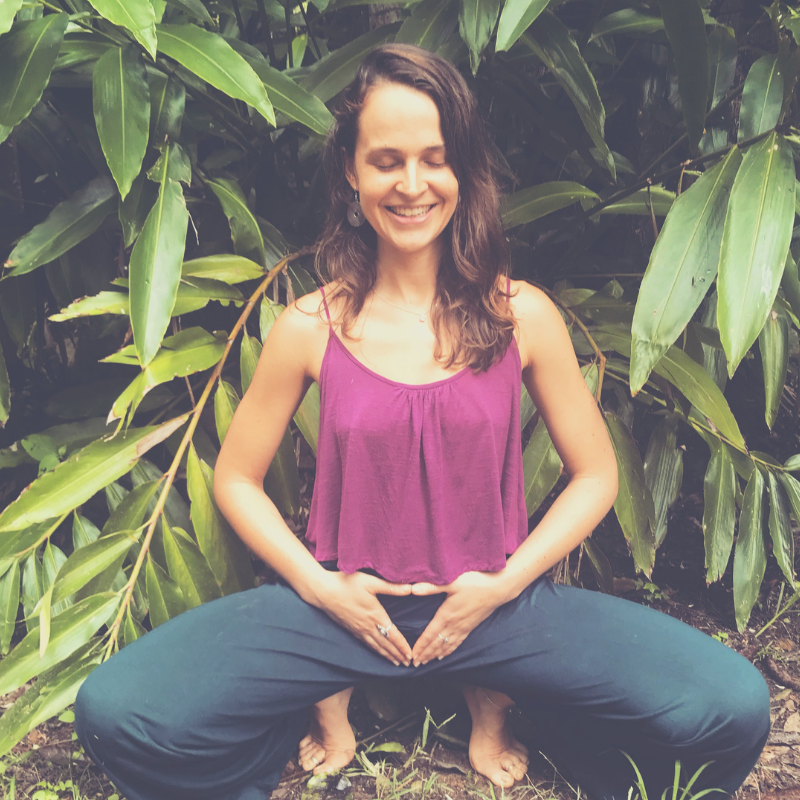 Shakti Yoga is a
deeply grounding practice for women that brings us home into our bodies and into deeper intimacy with ourselves and with Life.
This is a deeply nurturing and healing practice to unravel tensions from the body, liberate the locked up energy of our emotions, and create space in the mind as we soften into the heart and womb.
It is designed to awaken and cultivate a uniquely feminine flavour of strength, invoke inner power and harness vital creative energy ~ Shakti ~ to replenish, harmonise, energise and empower.
These classes empower you to self-source energy from within you and harness your inner power.
Gentle and gradual in its approach yet profound and effective for those willing and ready to dive deep as we peel pack layers and align with the vibratory force of Shakti as energy, power, wisdom and creativity.
Shakti yoga is ….
a gentle yet potent practice in which we will access Source (creative) energy from within our feminine energy centres and the earth.
a sensual, embodied practice that is designed to FEEL GOOD!

 

Equally – all feelings are welcomed rather than denied, expression is favoured over suppression!
a Tantric (life-affirming) practice of embodied self-love designed to bring you more deeply in touch with yourself as a woman.
 taken s l o w l y. Each sensation and breath is relished as we attune more deeply with ourselves and our inner wisdom
a practice that turns our attention toward the subtle undercurrent of delight that is always present and available.
 a transformative + powerful cultivation of Shakti – creative energy – that arises out of mystical Yogini practice and that also acknowledges our cyclic and emotional nature as embodied women. Your divinity and humanity are equally welcomed and celebrated!
a practice that activates your innate feminine radiance that will shine forth from within.
 best practiced regularly to receive the full benefit! It is certainly not a quick fix and yet enormous benefit can be received from just one session, particularly when practiced with devoted attention and loving reverence.

Upcoming Shakti Yoga offerings

EKKA WEDNESDAY Shakti Yoga Urban Sanctuary – 14th August
If you would like to host Jasmine for a Shakti yoga workshop in your studio or town – please be in touch!
Testimonials from our last Shakti Yoga course
"The Shakti Yoga course was so gracefully and lovingly by Jasmine to connect deeply with my divine feminine essence. As the weeks unfolded the tension and stories running through my busy mind started to dissolve. I noticed layers of fears and vulnerabilities stripping back to reveal the the bliss of embodiment.  The potency of this practice was absolutely palpable to the very core of my womb!
I ended the course feeling deeply softened and cracked open, and I have since included some of the practices we learnt into my home practice which has been immensely supportive and powerful as I anchor more and more into the shakti energy oscillating through my cells, calling me home to my inherent divine human and feminine essence."  – Katie Parsons
🌹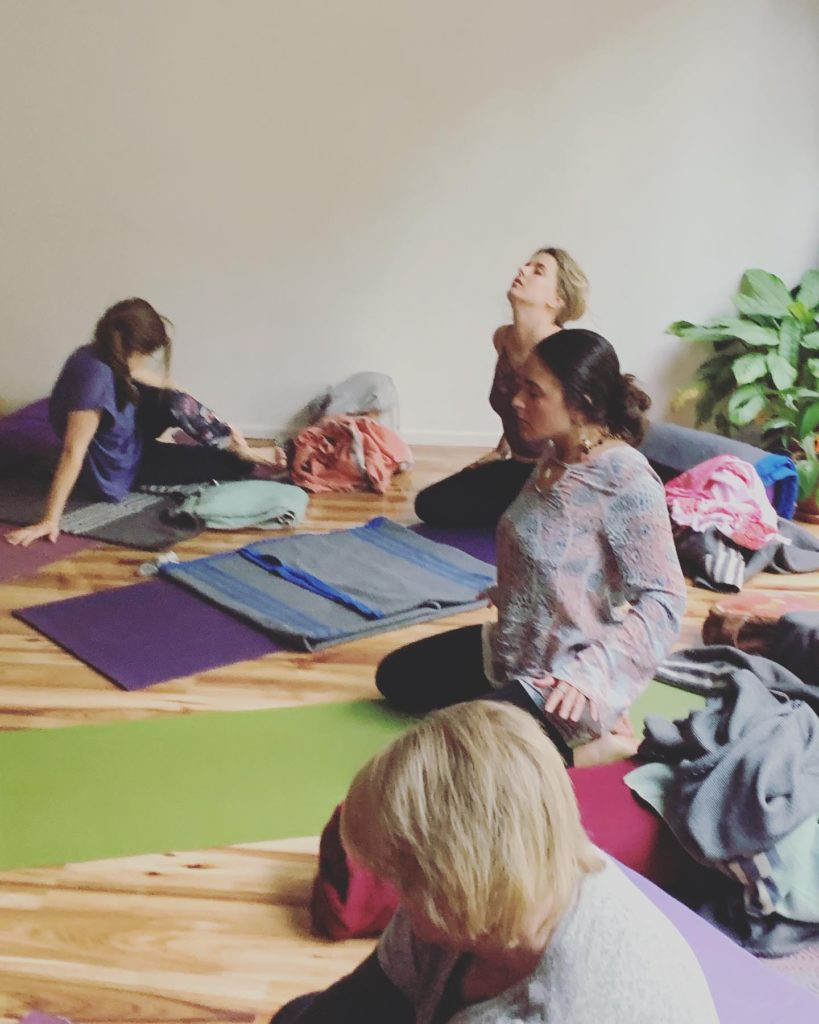 "I'm so glad I gifted myself the treat of The Shakti Yoga course. I was grappling with the idea that I didn't have time to fit another thing in but as soon as I stepped into the first class I was so grateful and even shed a tear of joy for this gift of self love. Every class was like a mini retreat and really kept me going for the week.
The exercises flow so well and build on each other effortlessly. There is a grace and ease to Jasmine's class yet an undeniable depth and power that comes through the work. I truly felt like each class I was coming h
ome to my body.
Allowing my movement to follow my breath and feeling the subtle (and not so subtle) sensations was such a pleasurable experience. I highly recommend all of Jasmine's work and the potent package that she is offering in the Shakti Yoga course is incredible." – Felicity Reid
What do we do in the Shakti practice?
You will be invited to express authentic and organic movement through your body, in addition to classical yoga postures and mudras, to clear, align and open the nadis (energy channels).
The circulation of this vital energy assists with health, healing, creativity and spiritual connection. We use our bodies, sound and breath to tap into this deep well of Shakti within, moving energy using the yogic art of attention.
There will be a generous serve of restorative poses in each session that will allow you integrate the movement practice and experience the medicine of softness through stillness, deeper receptivity and complete surrender into relaxation.
This is truly where the magic of our Shakti yoga practice lies, allowing us to drop beneath 'ordinary' consciousness, access the deeper wisdom within and restore the balance in our bodies and energy system.
Each session looks a little something like this:
* An opening ritual with a Shakti invocation (mantra + mudra practice)
* Guided meditation and breath medicine
* A yoga practice to open the body and awaken the heart
* Stoking the fire and activating Shakti through a dynamic movement ritual
* Organic movement medicine – being guided from your inner body wisdom in your authentic embodied expression
* Restorative yoga for softness and receptivity
* Surrender + integration through deep relaxation
* Closing ritual including annointing with fragrant rose oil


What other women have shared about Shakti Yoga
"I love attending Jasmine's Shakti Yoga classes for so many reasons. Jasmine takes so much care with her offerings, making sure to delight all our senses. She nourishes the feminine soul with so much attention to beauty. The flowers and scents she provides allow me to soften into my own essence: bringing me home to myself. All of me is invited into the space with practices designed to nourish and celebrate woman.
I find the classes so deeply healing with a sense of true sisterhood where pleasure is welcomed and not shamed. I'm so grateful to Jasmine for the space she holds and I highly recommend Jasmine's classes and circles."
Koryn Lloyd – Yoni Mapping Therapist
I love Jasmine's Shakti Yoga so much, it has been pivotal in my decision to start teaching again. I have been attending her Friday Shakti classes for over a year now & look forward to them every week. Jasmine has created a style of teaching all of her own. The emphasis is on the Feminine, so the movements & postures are fluid and freeing. We are encouraged to allow our body to guide us rather than the other way around. Shakti Yoga helps me to reconnect to my femininity by focusing my attention on my womb & heart space. I always leave feeling more in my body, grounded & liberated. Mmm. It's my Friday re~Treat.  Thank you, Jasmine. Xx
Chez Hackett – Chez Healing Arts 
I love going to Jasmine's retreats and yoga classes. She takes yoga to a whole new level and allows you to be free and connect to your own rhythm and the rhythm of the earth, in a healing and nurturing environment. She often adds a bit of mantra to the mix and always makes sure there are plenty of essential oils floating around. And not to forget the super delicious chai that she serves afterwards. A feast for all the senses! Highly recommend! 
Nienke Burgess – Arthentic
Shakti Yoga is a wonderful unique process that nourishes the Body, Senses & Soul. Jasmine is like a midwife for the "Goddess", birthing us into that sacred energy that resides within all of us. I always feel deeply nourished and invigorated after the delicious 2 hours finishing with Chai enjoying the beautiful surrounds. I will be back for more!
Louise Carroll
I've tried lots of yoga styles and Shakti Yoga is by far my fav. I found myself losing focus due mind wandering off with other styles. Shakti yoga is so freeing and engaging. It's a morning of bliss!
Kemina Fulwood – Kinesiology by Kemina
I attended one of Jasmine's Shakti Yoga events in Jan '19. I found her incredibly welcoming with a calming energy. I appreciated her wealth of knowledge and her 'full permission' space she holds. I felt comfortable and safe to express myself. I would say it was the most enjoyable yoga events I have attended. Highly recommended.
Zoe Renata – Counsellor