This popular trek in the Annapurna region offers unparalleled views of the Annapurna and Dhaulagiri ranges along with the diversity of Nepal. Within a few days we gain a sense of serenity as we gradually ascend through hamlets and pristine forests to the alpine heights of Kobra Ridge. The views are incredible with the sheer walls of the magnificent Dhaulagiri plunging to the misty depths of the Kali Gandakhi – the deepest gorge in the world.
We are further graced with the high pastures above Khobra Ridge beneath the amazing Annapurna South and Bharha Shikha – more commonly known as Annapurna Fang, and where ancient pilgrim trails lead to the sacred waters of Khaire Lake. Our route also offers staggering views of Annapurna South and other surrounding peaks. Cocooned by stunning mountains and peaks and hiking past lakes formed by the glaciers and ice falls of Annapurna South, perception and time subtly shift and one feels like a pioneer on a completely different planet.
Day 1 Arrive in Kathmandu. Alt: 1,350m. (Hotel Yambu)
At Kathmandu International Airport, you will be transferred to your hotel. There will be a full tour briefing in the evening. Later afternoon walk to Shayambhunath. (Monkey Temple) – this is an extremely sacred and beautiful site, said to be the heart chakra of the world. The 300 step climb up to the top is well and truly worth it, and the views over Kathmandu valley are incredible. We will stop off for dinner on the walk back to the hotel for an early night.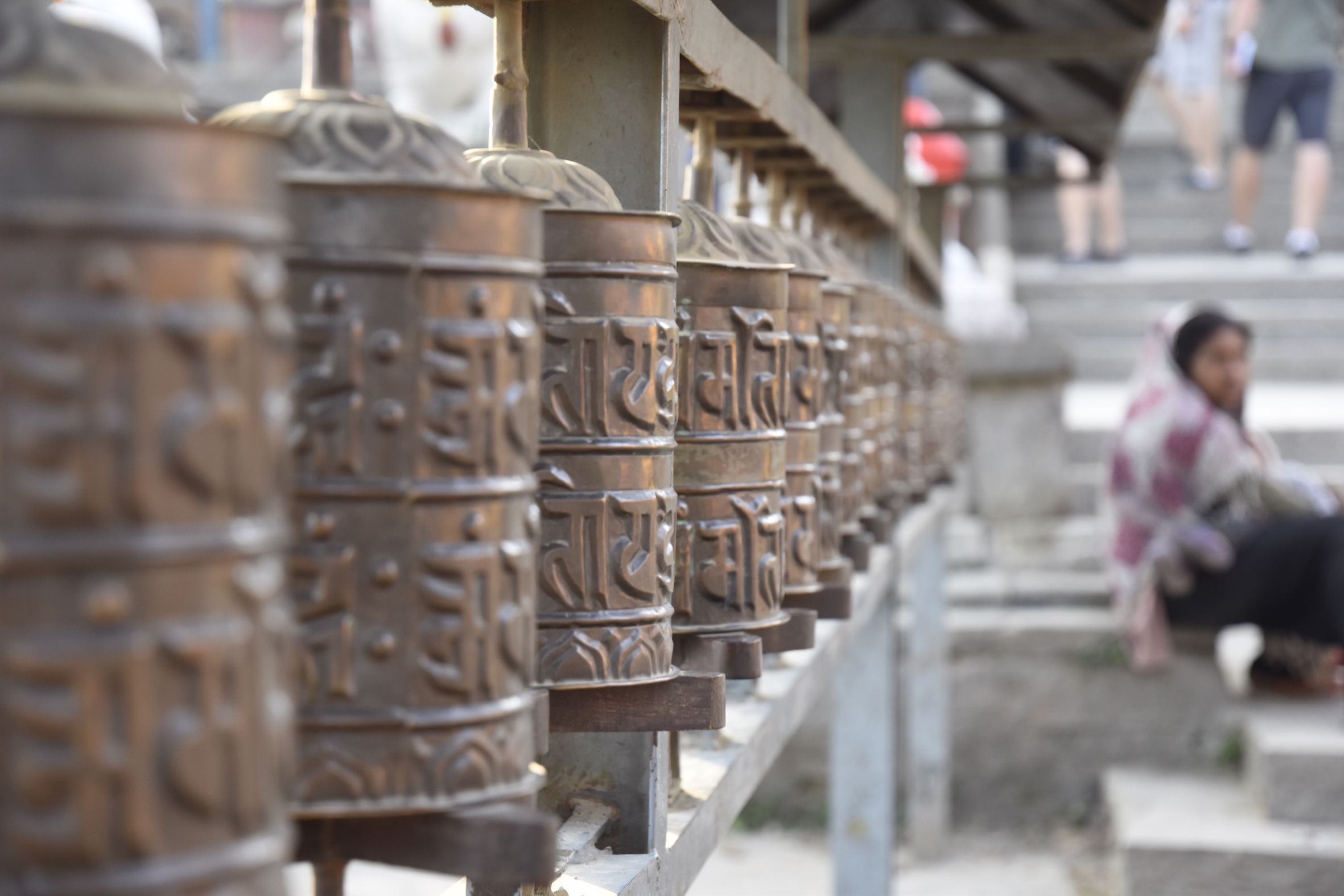 Day 2 – Kathmandu (hotel Yambu)
Morning rooftop yoga- a grounding practice to help us land. Free time in the morning to relax, settle in, wander the bazaars of Thamel, and lunch. Opportunity for shopping if you need any hiking gear.
We will have our official opening circle after lunch.
Late afternoon visit to Boudhanath Stupa. Stupas represent the Buddha or enlightened mind… this stupa is circumambulated endlessly by pilgrims and visitors – a full round is 150 metres.  This UNESCO world heritage listed site  is absolutely breathtaking. This is an opportunity to soak in the powerful vibrations of this place where countless mantras of "Om Mani Padme Hum" have been chanted. Here we will watch the sunset as the stupa lights up and we will enjoy dinner with a Stupa view at one of the restaurants that surround it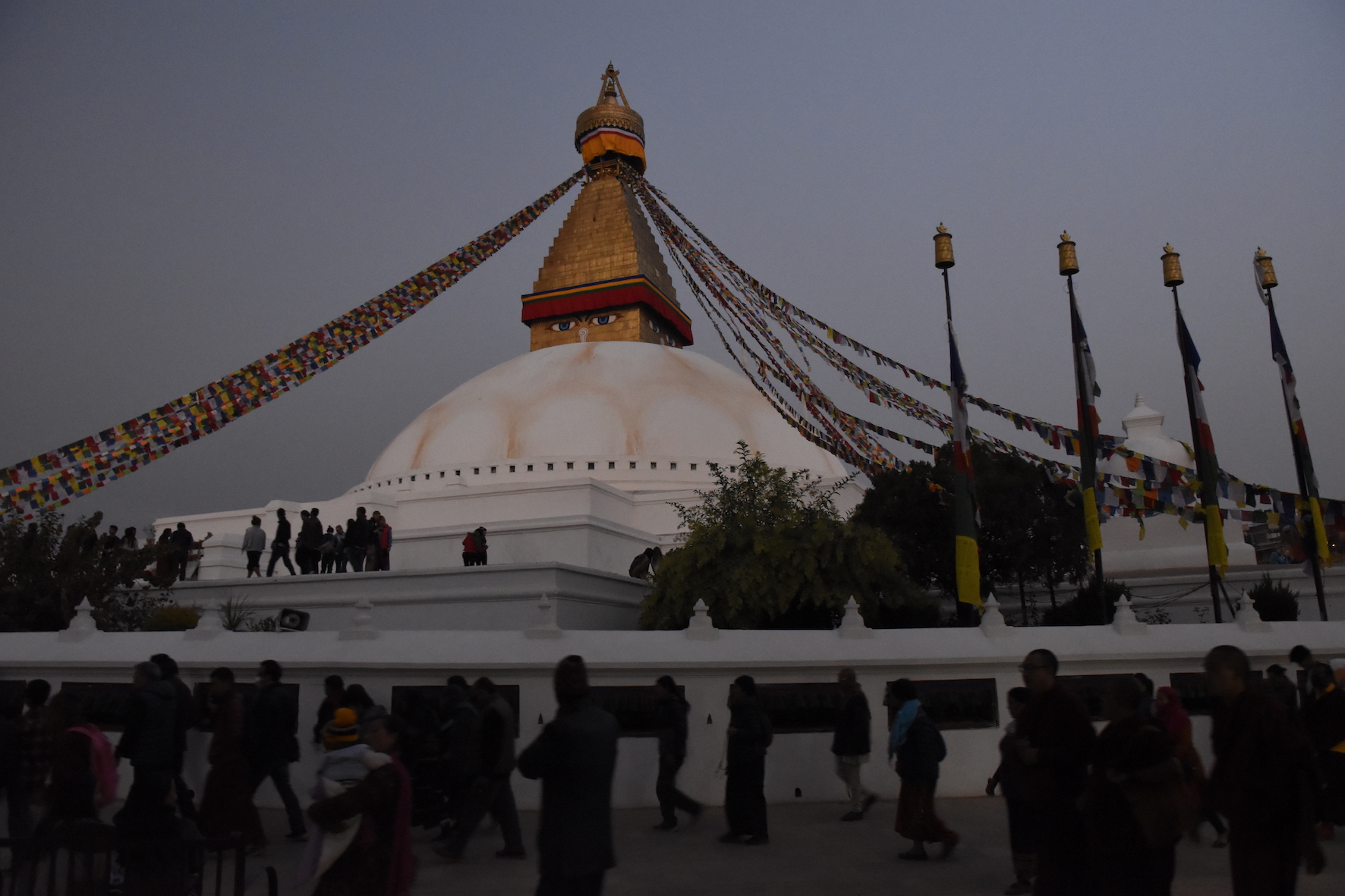 Day 3 – Kathmandu —> Pokhara
Optional sunrise walk to Swayambunath. At this time there are less tourists and the true devotees make the morning pilgrimage for prayer, chanting and saluting the sun. Also – we will be driving all day so this is a good opportunity to stretch your legs!
After breakfast we have a full day's drive to Pokhara with a packed lunch, Alt. 820m.
We drive out of the Kathmandu valley following the Prithvi highway, which descends to the scenic and tranquil town of Pokhara. En route we will have outstanding views of the Ganesh, Manaslu and Annapurna ranges of the Himalayas, along with river valleys, terraced fields and local villages. Pokhara is set on the banks of Phewa Tal (lake) beneath the Annapurna range, which creates a spectacular backdrop for this serene town.
Group dinner (not included)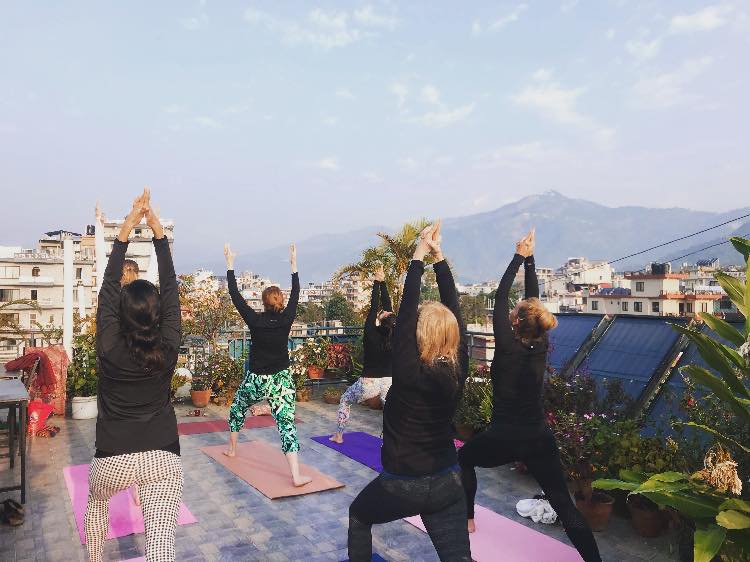 Day 4 (day 1 trekking)
Morning yoga on the rooftop where we glance the Himalayas before venturing into them!
We will pack our bags and prepare our day packs for trekking (suitcases and extra luggage can be left at hotel where we will return after our trek)
Following breakfast we depart for our trek's starting point Nayapul, a drive of approx. 45 minutes
Trek to Ghandruk, Overnight Lodge/Teahouse. Alt. 1,940. Trek 6 ½ hours.
Walk up to Syauli Bazaar. The trail then heads steeply up to the attractive Gurung village of Ghandruk taking us along ridges with spectacular views, which allow us to acclimatize within them. At our first teahouse we have views of Annapurna South (7,219m), Machhapuchhre (6,997m) and the Mardi Himal south ridge; and looking across the Modi Valley we see the villages of Landruk and Tolka.
Day 5 (day 2 trekking) Tadapani, Overnight Lodge/Teahouse. Alt. 2,630m. Trek 3 hours.
First the trail ascends through the spread-out village of Ghandruk and later climbs through the forest following a watercourse ravine up to Tadapani, which translates to 'distance waters'. The trail is home to outstanding flora such as small ferns and exotic orchids. We lunch on the way at Bhaisi Kharka. All around us are magnificent views of the Annapurnas.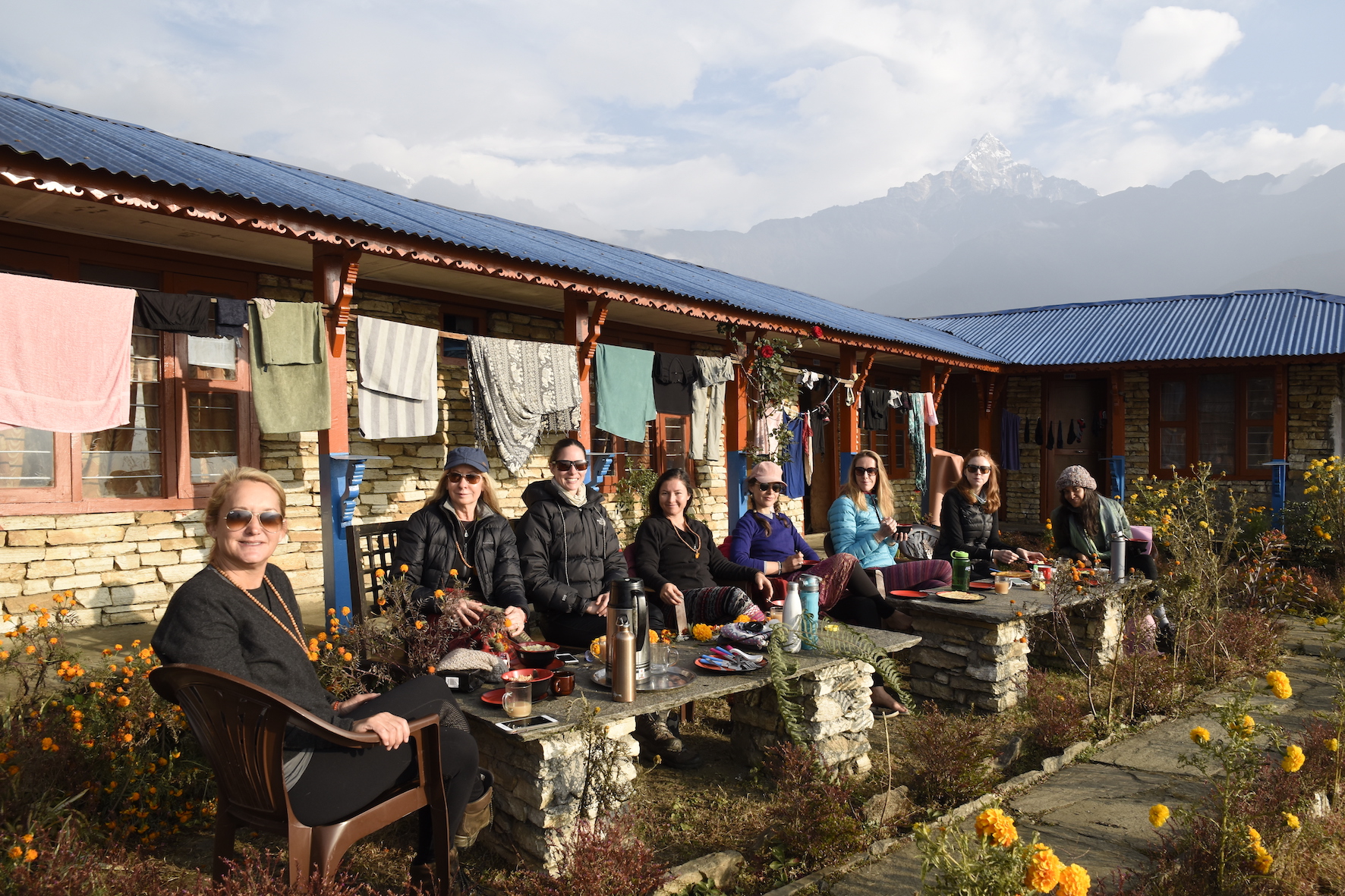 Day 6 (day 3 trekking) Dobato, Overnight Lodge/Teahouse. Alt. 3,460m. Trek 6 hours
The trail takes us gently uphill through the rhododendron and magnolia forest, with daphne bushes and orchids hosted by the bigger trees. After two hours we reach storm-torn trees broken by the winter snows and wind, and after a further two hours we picnic in the little meadow with its tumbling stream. Following lunch the trail goes gently upward through clumps of bamboo before reaching Dobato.
Day 7 (day 4 trekking) Chhistibang, Overnight Lodge/Teahouse. Alt. 3,100m. Trek 4 hours.
For the first hour the trail follows the 3,100m contour then breaks out of the forest onto the grass moorlands. To the west are breathtaking views of the lovely Kali Gandakhi Valley far below, whilst the great massif of Dhaulagiri (8,167m) is above and beyond. The route then leads on upwards to Bhaise Kharka at 3,330m. The trail from here takes us gently downhill to an ideal lunch spot with plenty of shade beside one of the clear streams, which courses its way down to join the holy Kali Gandakhi. For us too, after lunch, it is downwards to Chhistibang.
Day 8 (Day 5 trekking) Kobra Ridge, Overnight Lodge/Teahouse. Alt. 3,650m. Trek 3 hours.
Just four hours walking today. The trail again breaks through the tree line as we climb uphill to the Kobra Ridge. Today it is necessary to prepare a packed lunch for there is very little water en route for food preparation. Kobra Ridge is incredibly beautiful, for some it is their Shangri-La, it has the most awe- inspiring mountain views our planet offers with Annapurna South (7,219m) and Bharha Shikhar – also known as Annapurna Fang (7,647m), in the foreground, the peaks of the Nilgiri away towards Mustang and westward lies the dominance of the majestic Dhaulagiri (8,167m) as we see her in her entirety, from base to summit, and where later the sun will set.
Day 9 (Day 6 trekking) Kobra Ridge – Trek to High Camp, Overnight Lodge/Teahouse. Alt. 3,650m. Trek 6 hours. back to kobra ridge .
Dawn, and sunrise has set Dhaulagiri aflame. Complete with packed lunch we head north climbing upwards across high pastures, a stunning wilderness that is home to wild yaks – sometimes grazing in herds, other times lone rogue males, towards the mountains. Initially, the trail ascends gradually then steepens. As we approach High Camp we pass Kalibaraha Lake that is the higher and smaller of two lakes formed by the glaciers and icefalls of Annapurna South that towers above us. Continuing along the trail ahead of us are breathtaking views of Dhaulagiri, Annapurna South and Bharha Shikhar, if you look behind there are tremendous views of the lower lying villages. As we advance crossing streams, traversing spurs and passing chautaras and shepherd huts the trail opens up to a large wilderness plain where High Camp is located lying at the base of Annapurna South (7,219m) and Bharha Shikhar (7,467m), which are close enough to touch. In the summertime herders bring their livestock to graze here.
There is an optional trek to the sacred Khaire Lake, a place of pilgrimage with its lone stone-piled temple to lord Shiva, which is usually mist-shrouded. Here the wall and summit of Annapurna South is so close it strains the neck muscles as you take in all that is in front of you, and for completeness Bharha Shikhar, Annapurna I's great southern spur, fills the space beyond. This is a 3 hour round trip. Whatever the decision we return to Kobra Ridge in the same direction we came.
Day 10 (day 7 trekking) Swanta , Overnight Lodge/Teahouse. Alt. 2,290m. Trek 6 hours.
Retracing our steps, we reach Chhistibang and then head due south following the steep trail to the Teuche Khola (1,800m) before climbing to the old Tibet-Nepal trade route which is now the busy trekking trail that passes through Chitre. This is a marked contrast to the last several days of trekking we have enjoyed.
Day 11 (day 8 trekking) Tatopani overnight Lodge Alt 1190m  Trek 5 Hours.
Retracing our steps we arrive Tatopani ( hot spring ) .
Day 12 (day 9 trekking) Ghorepani  Overnight Lodge/Teahouse. Alt. 2860m . Trek 6 hours.
Back now among the 'guide-book' trekkers, we climb to Ghorepani the village that sits astride the saddle that takes the trail over and down to the Pokhara Valley. The walk to Ghorepani continues to offer excellent views of the Dhaulagiri. As we commence our return to Pokhara we head down.
Day 13 (day 10 trekking) Hile  Alt. 1460m. Trek 5 hours.
The trek's second last day takes us down to and over the hile.
Day 14  (return to Pokhara) trek to Birethete have lunch short walk to the road for the journey back to Pokhara. and drive to pokhara 2 hours by car .
Relax and then celebratory group dinner
Day 15 Pokhara – easy morning. Rooftop yoga at our hotel with Himalayan views.
Spa day- Jiva Spa is a beautiful spa in Pokhara. After a leisurely morning, we will have a half-day spa package including body scrub, massage, pedicure and lunch in the beautiful lakeside gardens of this sanctuary. Free time in the afternoon – relax, shop, take a boat out on the lake and option for late afternoon walk to the world peace stupa for sunset.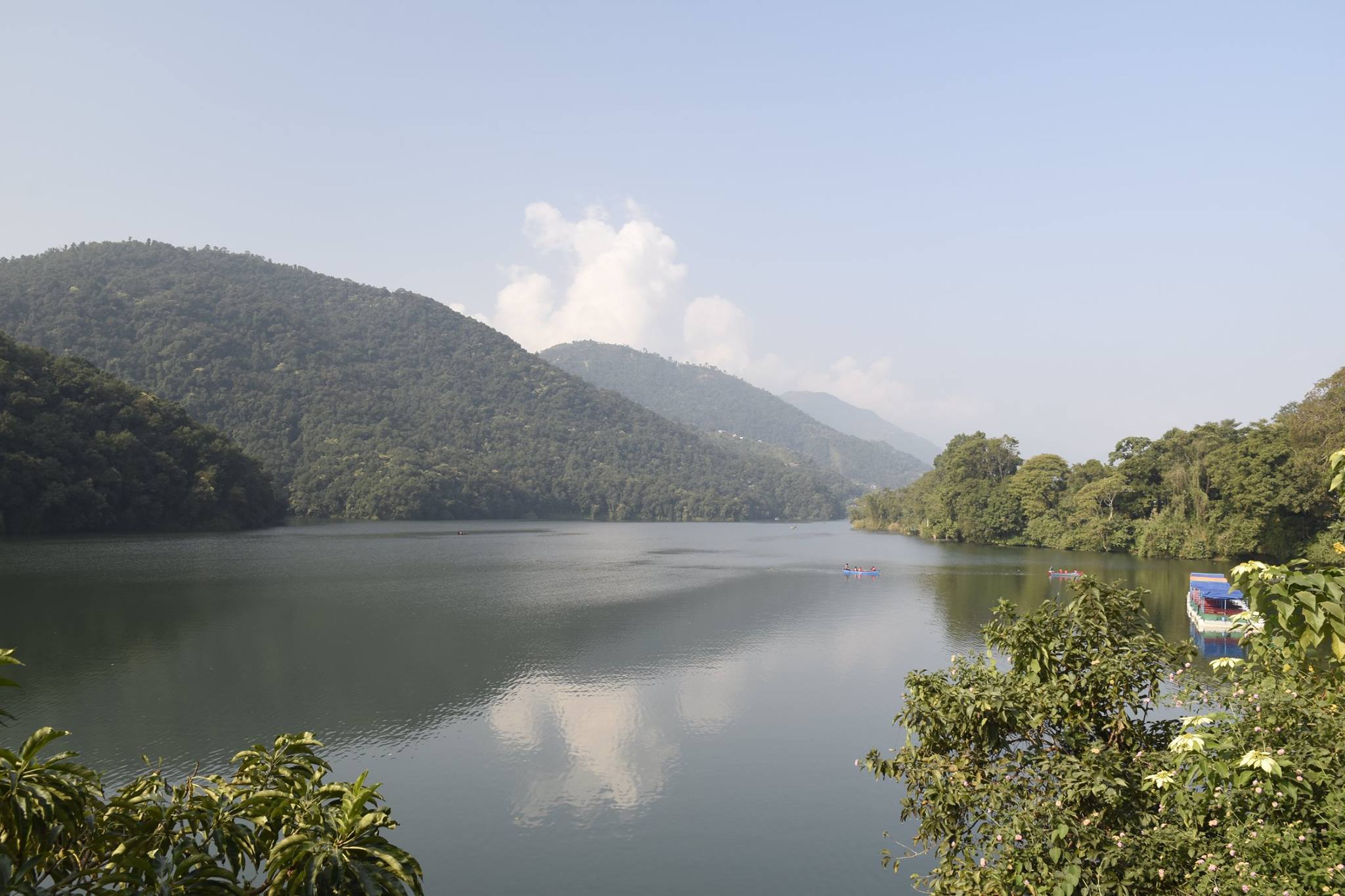 Day 16 – Journey to Kathmandu
Rooftop yoga/meditation. After breakfast – Flight from Pokhara to Kathmandu with incredibly scenic views across the entire Himalayan Mountain range.
Arrive in Kathmandu – afternoon excursion to Pasupatinath – powerful Shiva temple and cremation ground. Then check in to Hotel Yambu … cultural dinner (included)
Day 17 – Kathmandu – Hotel Yambu
Rooftop yoga and meditation – for the last time!  Visit old town of Kathmandu. Time for any last minute souvenir shopping. Dinner and closing circle.
Day 18
Breakfast and then goodbyes !