A note from Jasmine Rose– your pilgrimage leader
Nepal is very dear to my heart – it is a homeland of sorts, a place that awakens my innate joy, resonates with my soul and opens my heart. Even the thought of the Himalaya evokes an ancient remembrance, a deeper knowing of myself and my essence, and a resonance in all of my cells.
It plugs me in to the origins of yoga – the trust and ancient. I love being on top of the world, where the Dakinis dance and the sky makes love with the mountains.
It is my complete delight and honour to be guiding a group of Yoginis on this sacred pilgrimage again – a vision that came through when I spent three months in Nepal in 2012. Last year's inaugural pilgrimage was unforgettable and there was no question that we would return in 2019. See the full photo album from our 2018 adventure here on my Facebook page.
I will also be supported by an assistant yoga teacher (tbc).
Our support team
I will be teaming up with a local guide and good friend, Laxman, who I met on my first visit to Nepal in 2012. He will take care of the logistical, practical and cultural side of things – along with his incredible support team, and I will be creating a container that we can all lean into as I guide us through the yoga practices – the beauty of this pilgrimage is that we will have the opportunity to deepen beyond the asanas (yoga poses), and our extended time together in group means we can truly immerse in ways we cannot in our ordinary life.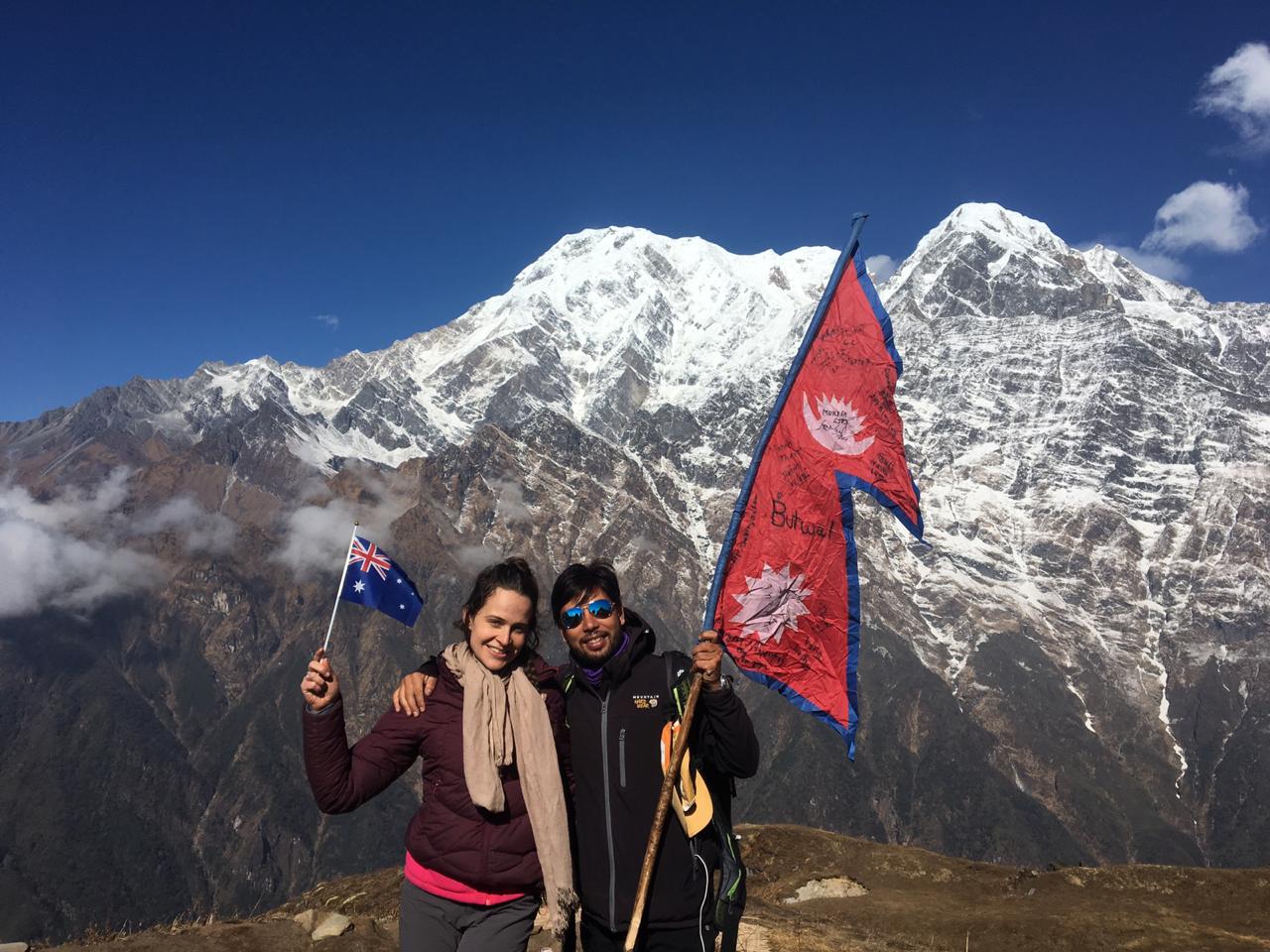 With all this taken care of, you will truly be able to relax and receive, enjoying the journey knowing you are being well looked after and travelling alongside like-hearted Yoginis!
Our warm-hearted guide Laxman Karki is a Nepali native from the Everest region and has over 15 years experience as a trekking guide. He has guided me on 4 treks during the last 7 years, including our inaugural Himayalan Yogini Pilgrimage in 2018, and I have complete trust in his skills and expertise as a trekking guide.
His spoken English is excellent and his clear communication paired with a cheeky sense of humour means that even the challenges are navigated with ease and grace.  He will be supported by porters who will help to carry our luggage, lightening our load so we can be free to enjoy without aching shoulders! Not only that, but they will charm us with their smiles and have us swooning with their generosity, kindness, and not to mention their dance moves!