𝑺𝒘𝒂𝒚𝒂𝒎𝒃𝒖𝒏𝒂𝒕𝒉 ⊹ स्वयम्भू स्तूप. ⊹ Kathmandu, Nepal 🇳🇵 This temple is literally one of the most powerful places on earth I have ever visited, and I have the great privilege to visit on two occasions. The memory of visiting this place on our Yogini Pilgrimage last year is palpable and forever etched into my heart.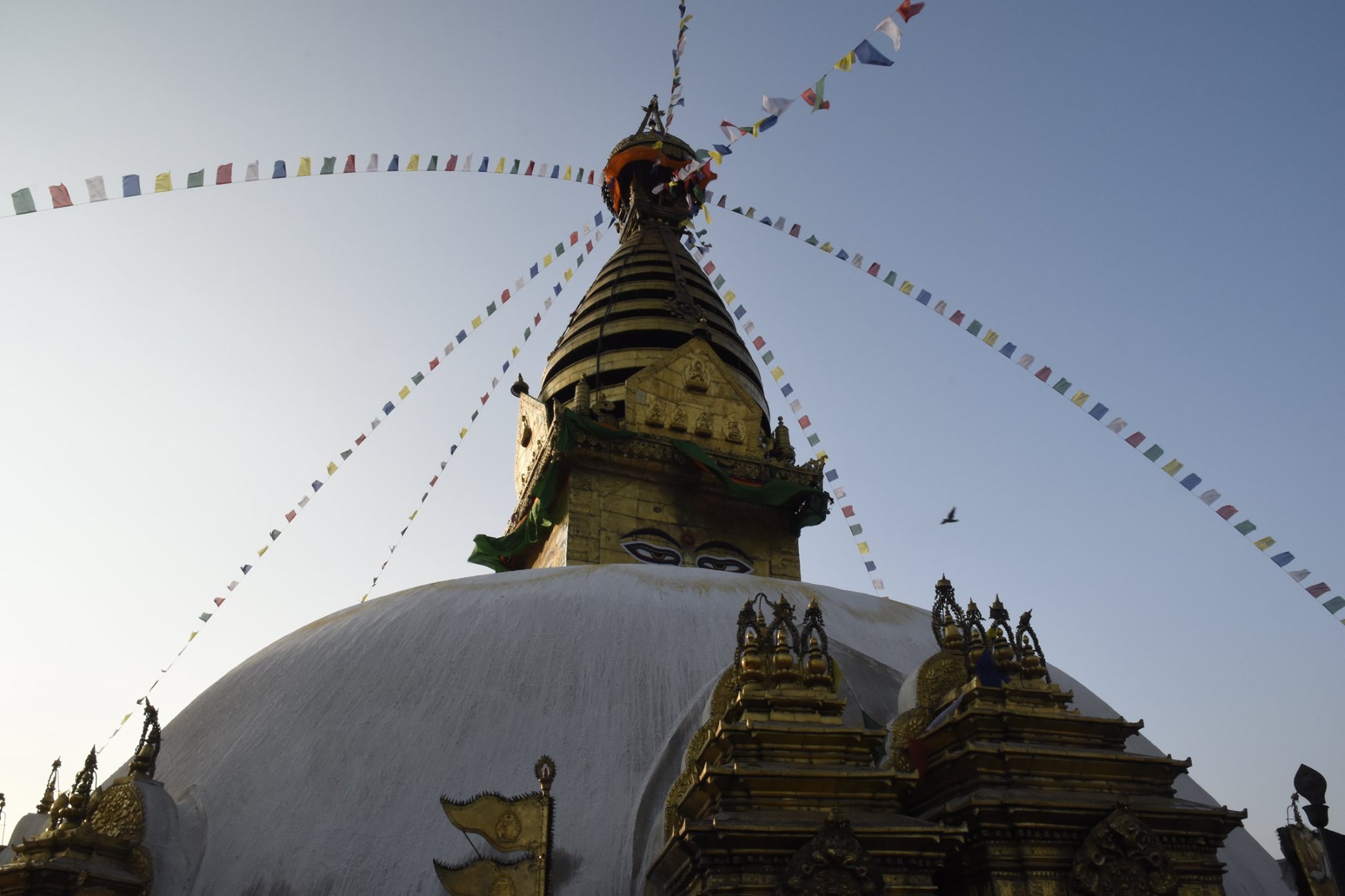 The other day I read that the whole hill is one of the most sacred power places in the Kathmandu valley and that over 120 medicinal herbs grow wild on it . I am totally not surprised as this place feels so very healing and magical
Our hearts were blown open after mounting the 300 or so steps, fresh off the plane. The energy upon reaching the stupa on top of the hill was profound, electric many tears were shed as "Om Mani Padme Hum" blared through the speakers, beholding the breathtaking views over the Kathmandu valley.
It's been said that Swayambunath is the heart chakra of the earth! This absolutely resonates for me.
I'll never forget one of the women on our pilgrimage saying "I'm not spiritual, but there is something about this place" with tears in her eye.
We visit Swayambunath – often referred to as monkey temple (yes, it is home to many cheeky monkeys!) – on the first day of this year's pilgrimage; seriously starting with a bang!!
Although the Himalayas are what draws many people to visit Nepal, the enchantment of Kathmandu is so irresistible that we will spend a couple of days here at the beginning and end of our pilgrimage this year. I adore this city with all my heart!
There will be an optional return hike up the hill for sunrise the following morning which was absolutely worth it when a few of us climbed there last year – all the true devotees (as well as local women blasting their pop music as they used the stairs for exercise 😅) visit at this time and the chanting, temple bells, butter lamps in the dawn light and wafting incense is all utterly intoxicating.
We were also invited in a vigorous morning routine but one of the locals yogis as the sun rose (check out the video below – it's worth it!) Totally unforgettable
If you feel a mysterious pull to visit Nepal, or perhaps you've been and long to visit again with good company, it would be my total delight to guide you!! I am leading an 18-day pilgrimage from November 5 – 22 and it is going to be MAGIC and memorable.
🌟
You can check out the full itinerary, inclusions and pricing here.
So much love,
Jasmine Rose