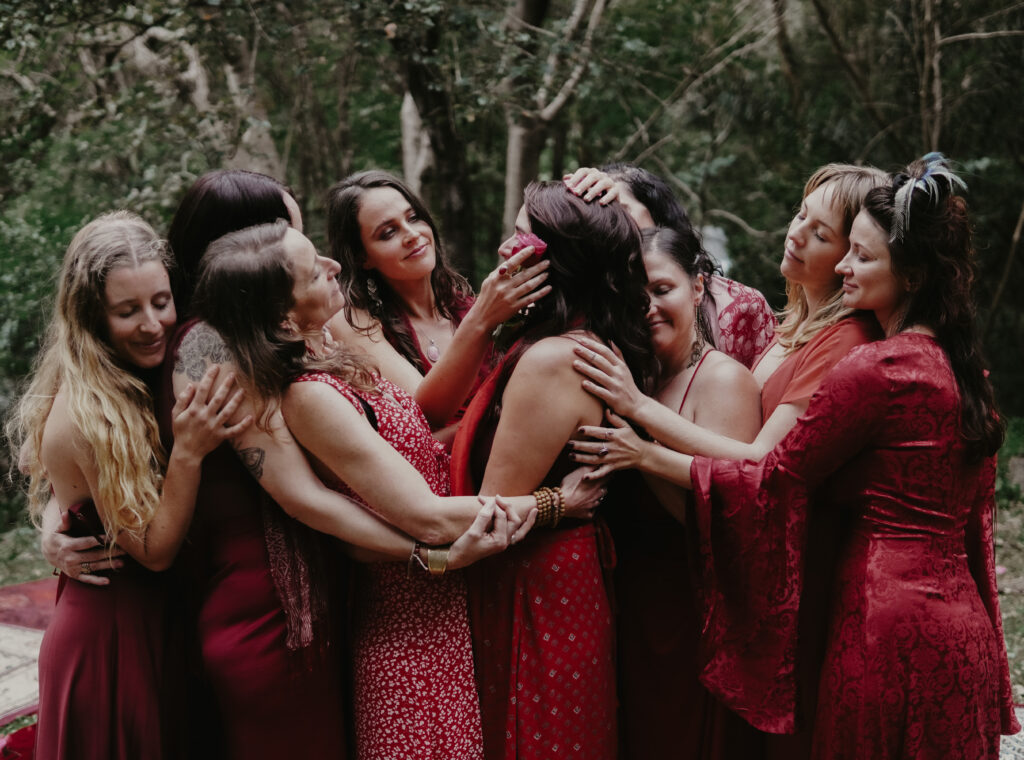 For years I ran women's events and circles without a solid circle of sisters of my own.

Sure – I had plenty of female friends, but our relationships tended to be exclusive – meaning – we always caught up one-on-one, and most of the women I was close with didn't know or care to be connected with each other.

Although I LOVE (and still need) deep one-on-one connection, something that was very missing for me was a CIRCLE of women, all connected to each other.
This is one of the reasons I began to offer women's temples- I recognised the longing I felt existed in the hearts of many sisters.
𝑆𝑜𝑚𝑒𝑡ℎ𝑖𝑛𝑔 𝐼 𝑑𝑒𝑒𝑝𝑙𝑦 𝑐𝑟𝑎𝑣𝑒𝑑 𝑏𝑢𝑡 𝑤𝑎𝑠𝑛'𝑡 𝑟𝑒𝑐𝑒𝑖𝑣𝑖𝑛𝑔 𝑤𝑎𝑠 𝑝ℎ𝑦𝑠𝑖𝑐𝑎𝑙 𝑎𝑓𝑓𝑒𝑐𝑡𝑖𝑜𝑛, 𝑝𝑙𝑎𝑦, 𝑑𝑎𝑛𝑐𝑒 𝑎𝑛𝑑 𝑐𝑟𝑒𝑎𝑡𝑖𝑛𝑔 𝑟𝑖𝑡𝑢𝑎𝑙 𝑤𝑖𝑡ℎ 𝑡ℎ𝑒 𝑤𝑜𝑚𝑒𝑛 𝑖𝑛 𝑚𝑦 𝑙𝑖𝑓𝑒.

My friendships were too talk-based, and as a somatically inclined human, I really wanted touch, dance, and plenty of nonverbal connection time. Gradually – through honouring this desire – I have dreamed in a solid circle of sisters who I meet with consistently.

We gather at each seasonal turning point, as well as spontaneous gatherings in between, and stay in touch via a group chat between meet-ups.And we love each other to bits!

This has changed my life immeasurably.

Not to mention – it is incredibly practical to be able to meet up with many sisters in one go, rather than scheduling lots of one on one meet ups!

And since my life is rich and full with all that I am passionate about, this really works for me.

Also – any shadow side of trying to get my own connection needs met through my circles that I hold has dissolved completely.

It is healthy and absolutely necessary for me to have a circle of women I can lean into – and not always be the one holding the space.

I also simply adore that if a sister is in need, it is not all on me to support her (though if I'm resourced and available, I absolutely will!)
My sisterhood enriches all of the offerings and spaces I hold for other women. I am SO grateful for these women being in my life – as each of us feed the circle, it feeds us back in big and beautiful ways.

𝑆𝑖𝑠𝑡𝑒𝑟𝑠- 𝐼'𝑑 𝑙𝑜𝑣𝑒 𝑡𝑜 ℎ𝑒𝑎𝑟 – 𝑤ℎ𝑎𝑡 𝑑𝑜 𝑦𝑜𝑢 𝑐𝑟𝑎𝑣𝑒 𝑖𝑛 𝑦𝑜𝑢𝑟 𝑟𝑒𝑙𝑎𝑡𝑖𝑜𝑛𝑠ℎ𝑖𝑝𝑠 𝑤𝑖𝑡ℎ 𝑜𝑡ℎ𝑒𝑟 𝑤𝑜𝑚𝑒𝑛? 𝑊ℎ𝑎𝑡 𝑎𝑟𝑒 𝑦𝑜𝑢 𝑑𝑟𝑒𝑎𝑚𝑖𝑛𝑔 𝑖𝑛?